Make it easy on you and your kiddos with my Working Parent Back to School Checklist.
Where has the summer gone?
This is a question that I have been asking myself as I've started the Back to School process with my tween. My daughter returns to school in less than a month! The organized mama in me likes to prepared, so working with a checklist makes it easier on all of us.
As a mom of a 22 year old and a 12 year old, I've had my share of Back to School moments. One of my secrets is utilizing a Back to School Checklist that I can rely on. It helps me make sure that I complete everything in a timely fashion.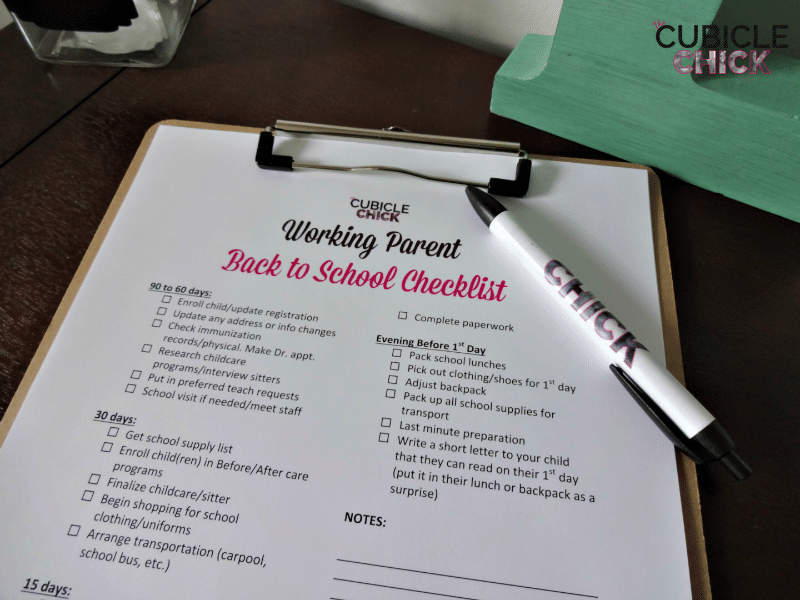 It's wonderful to have a document that can help you with all of the details that come with the "most busiest time of the year". As working parents, we have so much on our plates. Let me help you "eat" a little better so you can leave the table and spend time on other things.
(See what I did there?)
My Working Parent Back to School Checklist has most of the essentials that you will need and covers all age ranges. Everything from working out childcare plans to carpooling to checking immunizations, to purchasing school supplies (and so much more). There are even spaces for you to add notes and important numbers that'll also help the process. I've got you covered!
If you have multiple kids going back to school, you can print out a copy for each child and staple them together for simplicity.
To download by Back to School Checklist, click HERE.
And since I have no shortage of Back to School tips, here's a few I'd like to share with you if you are interested:
Set goals for the year with your child(ren) and encourage them with an incentive.
If you have an older child that has been skipping out on bedtime during the summer months, start them back on a regular bedtime about a week before school begins.
Get the kids excited about starting school by taking them with you on a practice run of the route to school.
You don't have to wait to get school supplies. Most school districts have the lists uploaded on their websites year 'round.
Here's to another happy school year. Make sure to download your Back to School Checklist.