I'm sharing my experiences around St. Louis in the 2017 Mazda CX-9 Grand Touring. This vehicle was loaned to me to use for review purposes.
I love my city!
A lot has been said about St. Louis, good and bad. I am not only a fan of STL, but I enjoy living in a place that is the best of both worlds—a robust city and a fabulous suburban area that are easily accessible.
Getting out of my enclave and visiting St. Louis hotspots is what I like to do when I have time to do so. Our downtown has plenty of attractions, but there are also places in midtown that offer awesome things to do.
I enjoy showcasing a few popular hopping places here in St. Louis. It is even better when you have a new 2017 Mazda CX-9 Grand Touring to ride around in to show it off.
This awesomely comfortable crossover isn't basic. She's got all of the bells and whistles that can make for a fun driving experience. Bose sound, navigation, Sirius XM radio, leather seats, and more, it's a crossover with a luxury feel.
Get a view of St. Louis during our city tour of hotspots in the Mazda CX-9!
First up is the National Blues Museum located near downtown in the Washington District. This gem features exhibits and memorabilia that celebrates the bedrock of American music.
This museum opened a year ago and is becoming a place to flock to for residents and tourists alike.
Next, we went to University City, a mecca for creatives and entertainment. Both The Pageant and The Tivoli are icons in this area, and help support independent artists and filmmakers.
When seeing musicals, shows, and concerts are your thing, The Peabody Opera House is where it all happens at.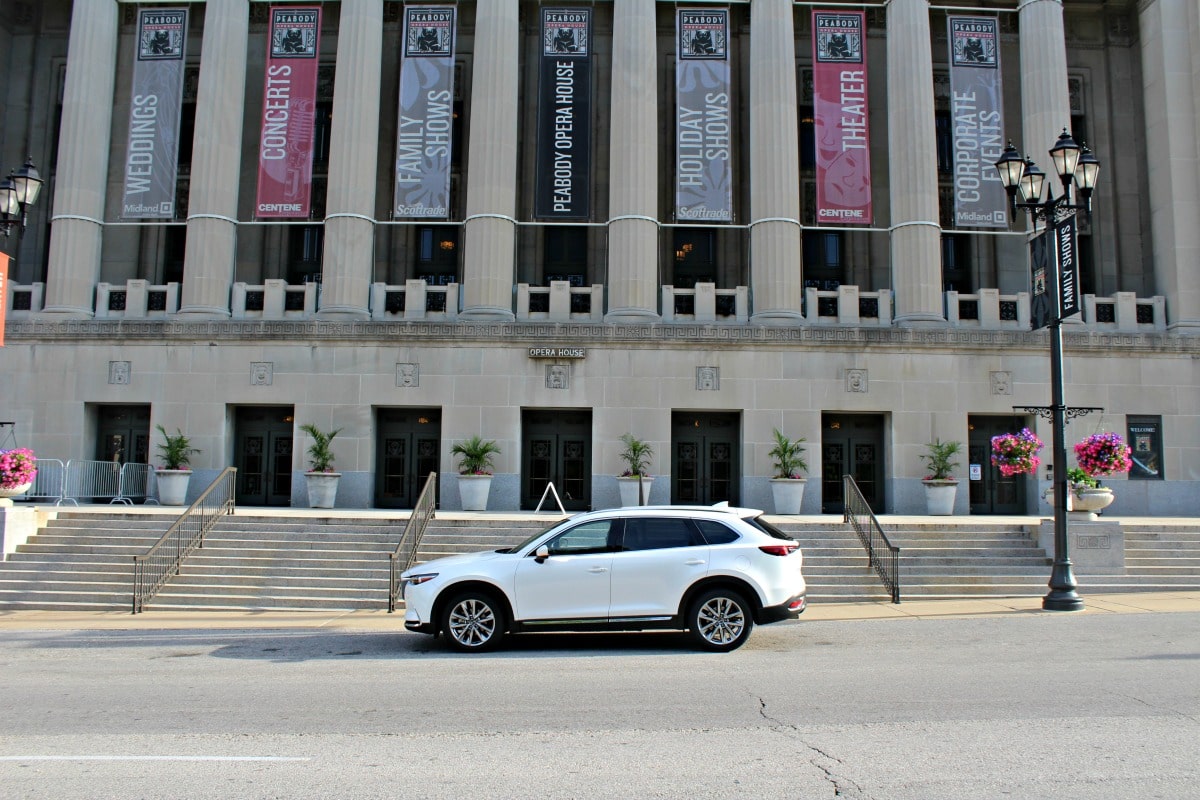 The Peabody Opera House has a nostalgic feel on inside—definitely old meets new. I love seeing shows there.
Last but not least, The Fabulous Fox Theatre has been a staple for over 100 years. The U.S. Bank Broadway Series makes it possible for us to see such shows as Hamilton, The Color Purple, and Wicked.
Hamilton will finally visit St. Louis next year, and I am looking forward to seeing it.
The 2017 Mazda CX-9 Grand Touring is easy to drive and handles quite well. She takes the curves of the road with gusto, and is the perfect ride to get to know any city.
The 2017 Mazda CX-9 Grand Touring is all-wheel drive, and has seating for six passengers.
Isn't she pretty?
Get complete details about the 2017 Mazda CX-9 Grand Touring HERE. For more information about St. Louis hotspots and the Gateway to the West, visit Explore St. Louis.