This post includes a review of Catamaran Resort Hotel and Spa. I was given a complimentary stay at the resort alongside amenities in exchange for this review.
I am a huge proponent of working parents using their vacation time—in full. As much as we juggle all of our hats, vacations are needed to refuel and recharge, and it is a shame that most Americans do not take their allotted vacation time that they are given. As for working mamas, I am even more passionate about making sure that we all get in much needed self-care and restoration. Which is why I make it a priority to get away and take a trip at least once a quarter—and I suggest you do the same.
Recently, one of my best girlfriends and I decided that we needed to away from the kids time at a beach location. We are both beach babes who love the energy and reflection time in front of an ocean can give you. After narrowing down the west coast, we decided on San Diego as the next destination for our Self-Care Girls Trip.
This is quite different than your average vacation. The focus on this getaway is to relax, release, and recharge by feeding your emotional, physical, mental, and spiritual self. A Self-Care Girls Trip isn't about doing as much as you can, but rather is about slowing down to enjoy and take in each and every moment.
Here are some key components that can help you plan a Self-Care Girls Trip that is good for the mind, body, and soul.
Beach, Please
For centuries, the beach has been known to have healing powers, and can offer positivity, peace, and a serene experience for those of you wanting a self-care escape. Sand is a natural exfoliant which is good for the skin and the sun is a powerful source of vitamin D. It's an awesome experience for all of the senses.
For our Self-Care Girls Trip, we were guests at the Catamaran Resort Hotel and Spa located in Mission Bay near San Diego. This is a prime location because it is a beachfront hotel with the Pacific just steps away from our door. Staying at a resort located right at the ocean allows for maximum beach time. We were able to sit for hours on the beach, books in hand, music in our earphones, taking in the sights and just enjoying ourselves in silence.
Spa Delight
A Self-Care Girls Trip also must include a little spa time. We both basked in 50-minute massages at The Catamaran Spa that is located right on property. This spa was just what the doctor ordered, as my Aromatherapy massage heightened my senses, loosened tension and tight muscles, and gave me a temporary escape from the regular.
Afterwards, we spent time in the spa's whirlpool which is locate outside facing the beach, and also indulged in the steam room and sauna.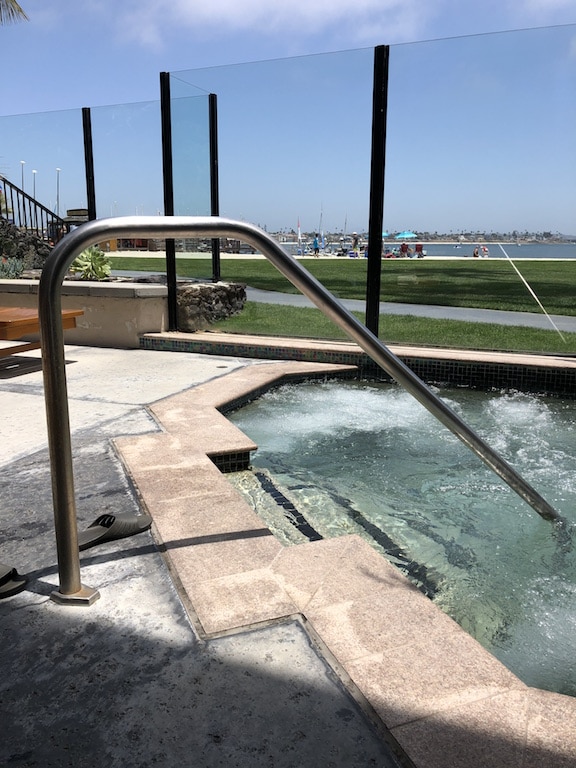 Once finished, we used the spas showers that included Vitamin C, and truly felt renewed. We both felt amazing!
Perfect Weather
Selecting a location for your Self-Care Girls Trip is probably the biggest decision since it sets the stage for the tranquility that should ensue. After going back and forth via text, Tiff and I decided that San Diego was in play. This SoCal city is an all year around 72 degrees (or higher) and had all of the things we required for our self-care excursion. The weather will play a huge part in your trip, so selecting a destination with good weather is key.
We were pleased with San Diego, as it has wonderful resorts and hotels that are the benchmark of a self-care weekend. Great weather, the ocean, and a dope location are the pillars of a relaxing situation.
Epic Food
Can self-care include food? In my opinion, YES! While I am watching my figure and working out on the regular, you do have to allow yourself to splurge. While at Catamaran, we noshed on fabulous and yummy treats, compliments of the resort at their Oceana Coastal Kitchen. Our table was on the patio and overlooked the ocean right at sunset, so it was also a visual treat and super inspiring.
During our meal, we chatted about our plans, goals for the future, and how we plan to encourage one another after our trip was complete. These are the type of #GirlfriendGoals that self-care weekends are all about.
Activities
Catamaran Resort Hotel and Spa was a perfect property to host our Self-Care Girls Trip because they had so much for us to do that nurtures the spirit. You can rent bikes and enjoy a ride on the boardwalk, paddleboats, and other activities that get you moving and can create an option for self reflection. There was so much to do, and we didn't even have to leave the property if we didn't want to.
When booking your Self-Care Girls Trip, make sure you discuss in advance some of the goals you have for the trip so that everyone is on the same page. Select a location like Catamaran that is peaceful, serene, yet with plenty to do so you can bond together doing activities, or by yourself. Respect one another's boundaries, and be okay with simply doing nothing during certain moments for intimate relaxation.
To enhance your trip, you can also bring along a journal to compose your thoughts and feelings. I jotted in mine during the trip and it has inspired me to keep going even though the trip is over.
Are you ready to plan a Self-Care Girls Trip?
Special thanks to Catamaran Resort Hotel and Spa for an amazing weekend filled with food, relaxation, and great accommodations and views.