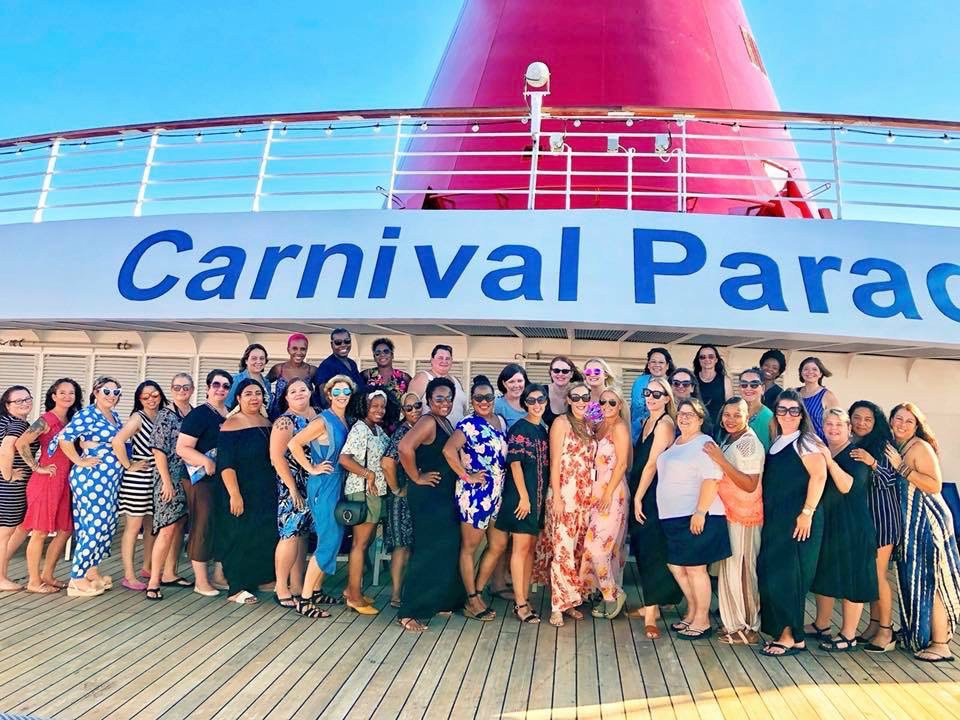 A cruise. Sea. Caribbean and Mexico destinations. Friends. Blogging. Business. That was just a brief recap of my experience during the first Permission to Hustle Cruise that took place earlier in September. 40 women, all in the blogging space, convened on a 2,000+ passenger ship called the Carnival Paradise for 5 days of learning and sharing while on board.
Oh, what a time we had.
I first wrote about my Hustle at Sea experience HERE on my business website, but promised a more expansive post that gives a little more details about what we learned and how we all grew during the trip. Here is that post.
I've been a little disenchanted with blogging as of late. It seems to have moved from honest storytelling to aesthetically pleasing content that is always perfect and full of fluff. Sorry, that is just my opinion. I've lost that loving feeling, but have continued because I have a community that I serve, and I don't ever want to let them down. Attending Permission to Hustle was my way of trying to save my "blogging marriage". I was looking to get that old thing back, that spark that I needed to rekindle my relationship with blogging and all that entails.
From the first evening on board, I felt a connection with many of the ladies in attendance. They get the blogging life, the ups and downs, and like me, most of them have been in the game 5+ years or longer. So I felt that I was around family, a group of people who truly understood.
That is what made the Permission to Hustle Cruise special for me. It was small enough that we could genuinely spend time together. Add to that, the sessions were packed with so many tools and ideas and tips–more so than any other blogging conference that I've been to recently.
Permission to Hustle made me remember my WHY—why I do it and who I do it for.
I am now renewed and ready to get back to the love of why I blog in the first place.
Serving working moms with tips and information is the reason why I started this blog so many years ago, and it is the reason why I will continue to do so.
Permission to Hustle restored my love for blogging and I am excited about what's to come. I am in the middle of getting my site totally redesigned (something I haven't done in four years), and I will also be rebranding—new logo, new colors, new feel.
This is all because of the Permission to Hustle Cruise and the energy, knowledge, and support that I received from all of the ladies there.
In terms of what I learned, I shared it HERE but here's a bit more:
Negotiate, negotiate, negotiate. Always be selling. Always be closing.
Make sure to pin all of your posts on Pinterest. Have a strategy for Pinterest, and allow it to help it grow your traffic. See what's trending on Pinterest to inspire blog content that will in turn, do well on Pinterest.
Combat dry spells with pitching.
Pitch often. Send at least 5 pitches out each week.
You don't need a lot of traffic to be an affiliate. Look for things that will convert high with your audience.
There was tons of info given, and I can't share it all here. Just know that the Hustle At Sea experience was one that I am very proud to have been a part of, and there will be another one, so you are not going to want to miss it.
You can also check out these Permission to Hustle Cruise recaps from: