The highlight of my day lately has been going to Trader Joe's. Yes, it's true.
While living the quarantined life and only going out for essential items, Trader Joe's is my spot. Their social distancing program of limiting the amount of shoppers in the store at once is something that makes me feel safe, and I don't feel as overwhelmed when I shop there as I do at some of the other markets in my area.
I've also gotten acquainted with their health and beauty items which can also be considered self care, especially during these days and times. I am sharing my Five Favorite Self Care Items from Trader Joe's that you'll also want to purchase again and again.
Trader Joe's Coconut Body Butter
I am a body butter fanatic and I have tried them all. After taking a trip to TJ for some essentials, I cam across their Coconut Body Butter and have been addicted ever since. The smell is amazing and gives you mad tropical vibes and adds to a sensory connection.
It's also not too thick, but does the trick in moisturizing my hands after washing them so many times during the day. I am a true fan girl of this stuff! My body feels so soft and smooth after using it.
Trader Joe's Mighty Turmeric Juice Shot
Keeping your immune system healthy and strong is the name of the game these days. Part of my daily regimen is drinking these Trader Joe's Turmeric Juice Shots, which help in boosting the immune system. It tastes like carrot juice and is pleasant enough to drink everyday.
You can find it in the refrigerated section near the dairy, where the other juices are sold.
Trader Joe's Sweet Basil Foaming Hand Soap
While in the checkout line, I saw this hand soap and thought I would give it a try. I am so glad I did but it is so delightful and fresh smelling. When I wash my hands (which is a lot these days), using it makes me feel happy and clean and healthy. I can't describe it, but let me just say that the fragrance improves my mood when I am feeling low.
Yes, I think it's a vibe changer for sure.
Trader Joe's  Flowers
Because going out of the house has almost become nil, I need flowers in my life to give my house color and vibrancy. I've always purchased Trader Joe's flowers before, but I love then even more now because they give me a sense of peace during this stressful time. Since beginning the quarantined life, I've purchase flowers at Trader Joe's once a week to place in my living room and dining room.
When they bloom, so does my spirit.
Trader Joe's Rose Water Facial Toner
How I miss going to the spa these days! So, once a week, I create an in-home Spa Day and I take a bath, light up the candles, apply a mask, and wash my hair. One of the final touches to all of this is using TJ's Rose Water Facial Toner as the final step to my facial routine. It hydrates, refreshes, and smells so amazing, giving me that spa feel without leaving my house.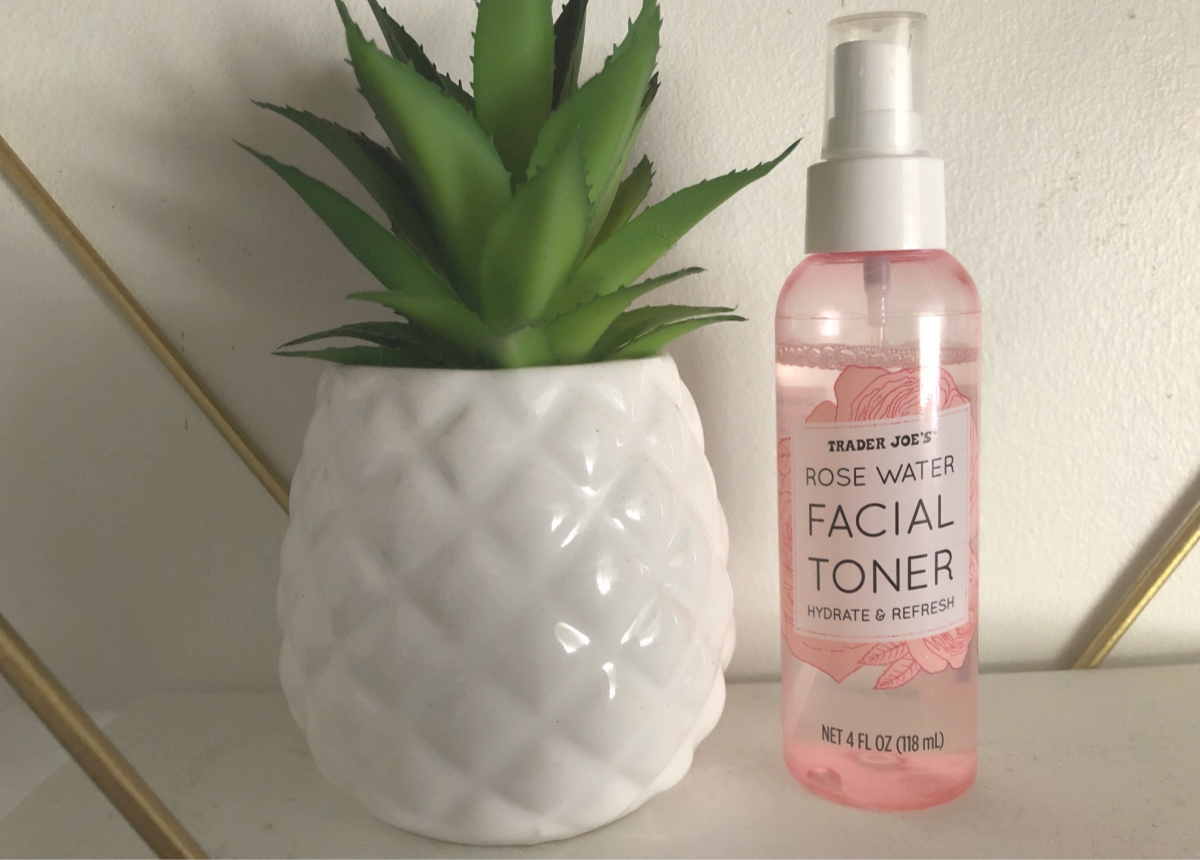 Living during Covid-19 takes creativity and yes—self-care. I love these Five Self Care Items from Trader Joe's, and hope that you will check them out (if you haven't already) and let me know what you think of them in the comments below.
Have you been shopping at Trader Joe's lately?