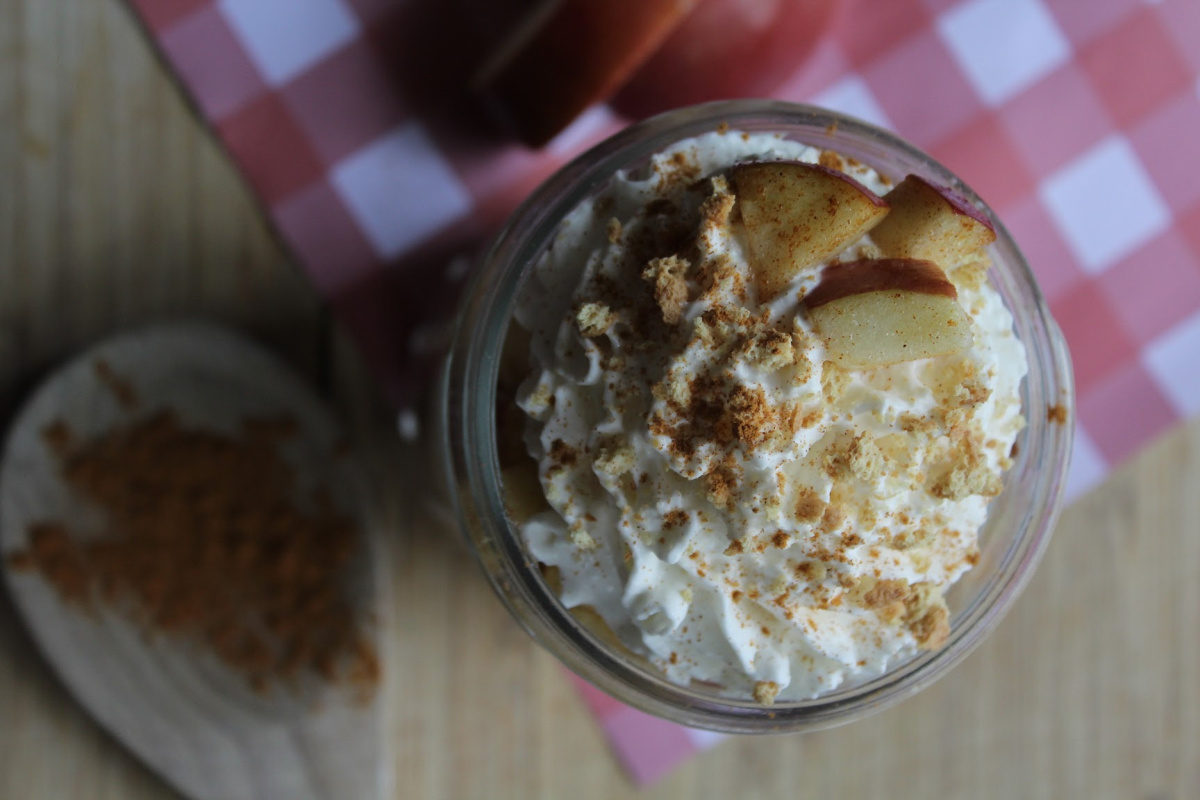 If you love the flavors of apple pie but hate the time it takes to prepare one, this No Bake Apple Pie in a Jar is for you. Not only can you make it in minutes, but you don't even need to turn on the oven to do so. It is the perfect summertime dessert, as you can make individual servings for everyone at your dinner table. Here is how to make your own no bake apple pie in a jar, a simple dessert the whole family is sure to love.
Here is what you will need:
Mason jars, cleaned and dry
1 lb. of Apples of your choice, rinsed, dried, and chopped
1 teaspoon each of cinnamon and nutmeg (optional)
1 teaspoon of white sugar (or you may substitute brown sugar if you prefer)
Graham crackers (about 4 whole crackers, any flavor or variety you prefer works fine)
Whipped cream
If you don't have any mason jars on hand, your local dollar store will carry them. You can also use a drinking glass if you need to, or any tall/wide serving piece that will allow you to layer the ingredients. If you don't like nutmeg, you can stick to using the cinnamon. Nutmeg will just add another layer of flavor but your dessert won't be ruined without it.
Directions:
1. In a bowl, add your chopped apples, your cinnamon, nutmeg, and sugar. Mix well. You will notice almost a syrup will form over the apples. This will glaze them nicely and add a ton of sweet flavor. Set aside.

2. In a separate bowl, crush your graham crackers. You don't want to crush them into a powder, but better yet large crumbles.

3. You can prepare to assemble your no bake apple pie now. Begin by adding a layer of graham crackers to the bottom of the jar. Follow with a spoonful of the apple and sugar mixture. Pat flat in between each layer to create nice and clean layers.
4. Now, add in a layer of whipped cream. Add as little or as much as you wish. It is totally up to you!
5. Repeat the process, adding in more crushed graham crackers, followed by the apples mixture, then whipped cream until you reach the top of your jar.
6. Finish the no bake apple pie in a jar with a top off of whipped cream sprinkles with some more graham cracker crumbs and a dash of cinnamon. You can also stick a few apple slices in the top for decoration.
How gorgeous is this dessert? Now just add a spoon and you are ready to serve. Kids will love assembling their own apple pie in a jar, and adults will love finding this dessert at the end of their meal. So the next time you don't feel like firing up the oven, try this no bake apple pie in a jar instead. It is a fresh and fruity dessert perfect for any time of year!
[amd-zlrecipe-recipe:6]
Pin for later!