This post is sponsored by Biotheranostics, Inc. (Breast Cancer Index®). Thoughts and opinions are my own.
What does the word support mean to you? What does it look like? Is it when you feel that you are not alone and that someone is going through an ordeal with you? Is it a smile, or a hug, or a call from them to let you know they are thinking of you?
I've thought long and hard about what the word support means, and for me, I liken it to holding someone's hand and being there for them to give it a tight squeeze when they need it. It's being a rock for someone you care about when things may seem like they are falling apart.
Support is action.
I learned a lot about the word support when my aunt was going through her battle with breast cancer. I'll never forget they day when she called me on the phone and told me that she had been diagnosed. At that moment, it seemed like my world was crashing.
To get the true depth of this, you have to know how much I love and adore my aunt. She's like a second mother to me, and at times when my own mom wasn't there for me, she was. Aunt Sharon was (and is) always someone I could confide in without feeling judged. I always felt love and a sense of peace in her presence, so the thought of losing her hurt me to the core.
I wanted to do everything in my power to help her get through. We became even closer during her treatments, and I rejoiced when she went into remission.
Her diagnosis was eight years ago, and she is still cancer free to this day. Because of her fight, I learned what the word support truly meant.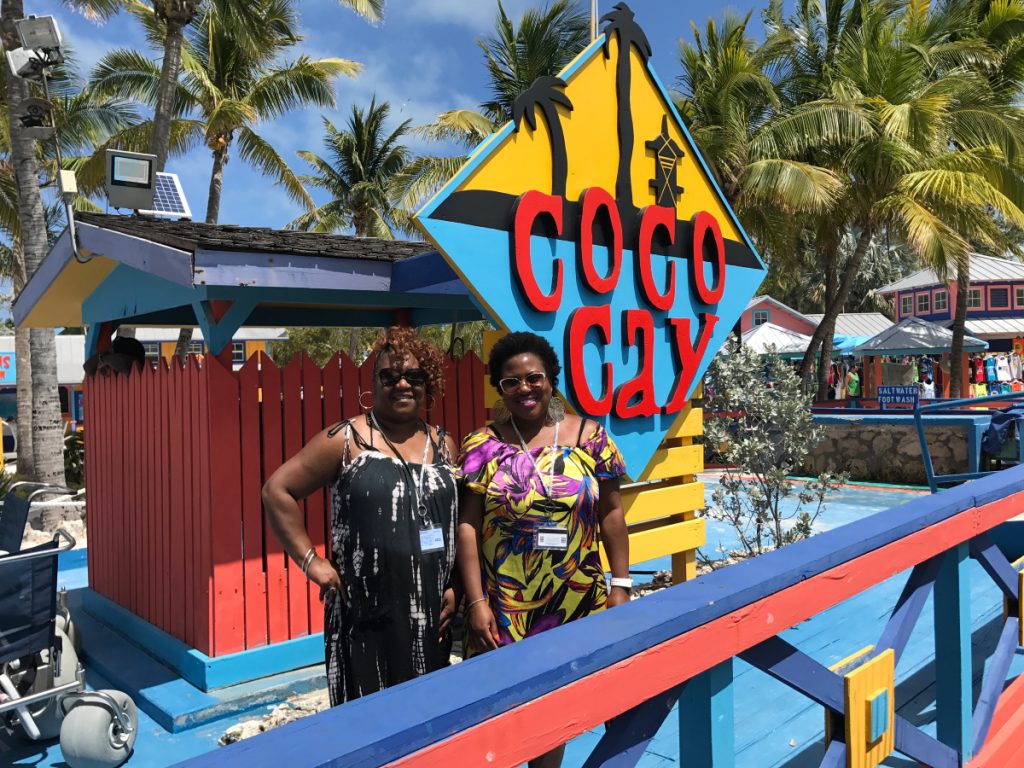 As a partner of the makers of Breast Cancer Index , I wanted to share with you our story and how supporting a loved one with breast cancer takes love, patience, understanding, and action. Breast Cancer Index is the only commercially available genomic test that can (Intended Use and Limitations can be found at breastcancerindex.com):
predict whether a breast cancer patient is likely to benefit from anti- estrogen therapy after 5 years and
provide the patient's individual risk of recurrence after 5 years.
Breast Cancer Index can help patients learn if they are likely to benefit from anti-estrogen treatment after five years. Why is this huge? Before this test, oncologists had limited tools to determine if anti-estrogen therapy beyond five years would aid women with HR+, early-stage breast cancer.
Nearly 95% of women with HR+ early-stage breast cancer do not benefit from anti-estrogen therapy after five years, which makes Breast Cancer Index a powerful tool that helps patients and their oncologists avoid treatment that may not be necessary.
If you know someone who has been diagnosed with breast cancer, here are five ways that you can support them with intention and action:
Listen
My aunt went through a lot while fighting breast cancer. She had surgery, followed by chemotherapy, and then radiation. The treatments taxed her body–she lost her hair, her fingers turned dark, she was sick and suffered from upset stomach, memory lapses, and so much more. There were times when she needed to vent and to share her frustration at how this cancer affected her quality of life.
She didn't need me to say anything—she needed me to listen. Which is what I did.
Be proactive
Oftentimes my aunt didn't want to ask anything of us when she was battling breast cancer. She didn't want to be a burden, and I knew that her pride wouldn't always allow her to ask us for things she needed. Because of this, I tried to anticipate her needs and fulfill them so she didn't have to ask of anything.
This takes proactivity, and it will mean a lot to the person you are supporting. Go grocery shopping for them for pantry staples, wash their car, help with the laundry—these are all tasks that you can help perform, and they will be grateful.
Ask questions
Supporting someone you love means asking questions and educating yourself about what they are going through. When my aunt was going through her fight against breast cancer, I often spoke to other survivors in my social media network to learn more about breast cancer and how I could best help my aunt.
Be sure to ask your loved one how best to support them. They may not want to answer, but it will make them feel better.
Learn
Scour the internet for good information, and keep a watchful eye on articles with content that can help you. Talk to doctors if you can (I was able to speak to a few oncologists who gave me great insight). Many hospitals and medical facilities have support groups for those who are supporting people with cancer, so you can also tap into those meetings to learn more and speak with others going through the same thing you are.
It takes a village.
Show up
The most important thing you can do for a loved one with breast cancer is to show up for them. Be there. Be present. Be mindful. Have things to talk about other than breast cancer and treatment. I often would visit my aunt at her home and sit and watch television with her and chat. We both enjoyed these moments. I also went went her a few times to her chemo treatment. I would try to make her laugh and smile to get her mind off of things.
While going through breast cancer was not ideal, my aunt and I became even closer and I am so thankful for that. We took a negative and turned into a positive, which helped her fight the battle of her life.
Supporting a loved one with breast cancer takes heart, but it can also truly make a difference.
You can learn more about Breast Cancer Index by visiting their website. There should be not another minute spent living in fear.
Have you supported a friend or family member with breast cancer? What advice do you have to share?