As a St. Louis native, I love the fact that there are so many great artists, musicians, actors and entertainers that are from this great city (Josephine Baker, Jenifer Lewis, Maxine Waters, Dick Gregory and Redd Foxx just to name a few). When you think about the Midwest, you often think of Chicago or Detroit, but St. Louis is the true Gateway to the West and deserves to be recognized as a place that has birthed many greats.
One such great St. Louisan is the incomparable and multi-talented Maya Angelou. She's known as a poet, an author, an actress, an activist and queen wordsmith. Ms. Angelou was born right here in St. Louis and her birthplace home is located in the previously segregated south city Gate District neighborhood. The modest home was owned by her maternal grandparents, and in 1928, it became the house that gave us Maya Angelou.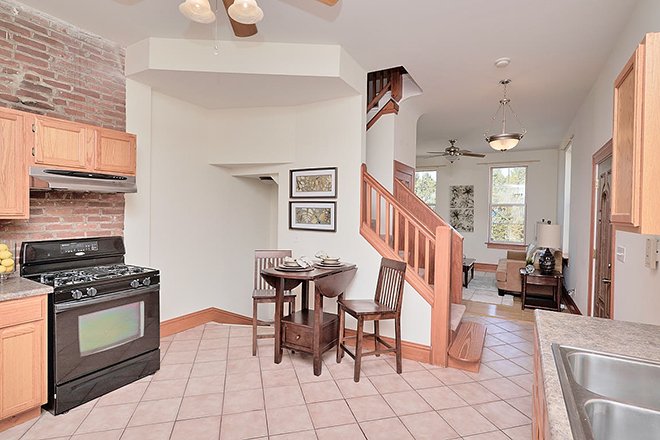 3130 Hickory Street is a modest brick home that was built in 1888, and is one of the few original homes left in the area. Ms. Angelou was born in this home and lived there until the age of three, and then moved to Stamps, Arkansas with her older brother. At age 8, she and her brother returned to St. Louis to live.
Maya Angelou's childhood home in St. Louis is now a City Landmark effective December 12, 2015.
I visited the home one cold November afternoon during my lunch hour, and while I was unable to get close enough to take more photos (there was a dog in the window who looked none too pleased to see me loitering outside), but I did manage to get a few shots on my phone.
You could definitely feel the presence of greatness, as Ms. Angelou's aura seemed to be in the air. I got chills, and it wasn't because of the temperature. I experienced an amazing feeling standing where it was likely that she stood also.
This brick two-story house was put on the market four years ago and since has been purchased. The previous owner had no idea that her property was linked to Maya Angelou, and shared this in the Saint Louis Magazine article.
"It was a shock, first of all, that I lived in this property, I bought it, I had no idea," Ronda Wright says by telephone from her current home in Minneapolis. "I'm not even sure the person who sold it to me was aware. I felt a bit of responsibility in making sure that the home was able to be cemented in history."
If you are visiting St. Louis, you need to make this historic home a part of your trip.
There are photos available of the inside of Maya Angelou's childhood home which was shared in Saint Louis Magazine in 2017. Many updates have been made to the interior which makes it ineligible to be placed on the list of National Historic Places.
Sometimes I take for granted the rich and storied history available right in my own backyard. Trust me when I say that I am working on appreciating my city even more.
Here's a few more facts about Maya Angelou:
Martin Luther King, Jr. was assassinated on her birthday. (April 4th)
Maya Angelou had her own line of greeting cards
As a linguist, Ms. Angelou spoke six languages
She wrote and directed several movies including Down in the Delta (1988) and Sister, Sister (1982)