While in Las Vegas last weekend for The Curvy Revolution, I became familiar with a clothing store which was right up my alley. Bettie Page Clothing, located in the Mile Shops on the Las Vegas Strip, features fashions and styles from the pin-up era of the 50's complete with high waisted and pencil skirts, peasant blouses, sailor dresses, and cigarette and capri pants. And not only are their "rock-a-billy" fashions and styles fabulous and vintage approved, but they are also made with the curvy-licious divas in mind.
When it comes to fashion, I am always looking for a way to stand apart from the crowd. Not much on trends, I like to make a statement my own way with subtle nuisances—a flower in the hair, make-up, accessories. When I saw the items in the Bettie Page Clothing store, I was pleasantly surprised at the offerings—a collection of fashions that are forward despite being vintage, feminine, and uber fabulous. Heads will definitely turn when you wear something from their store.
The brand was named after 50's pin-up model Bettie Page, also known as the Queen of Pin-ups. She was also one of Playboy's first Playmates.
Bettie Page Clothing has 4 stores currently open in the U.S. including  Las Vegas, Hollywood, and San Francisco. You can also purchase online by visiting their site, BettiePageClothing.com.
Bettie and their beauties are "Glorifying the American Girl". So far, I am loving their looks!
Fanny Green Skirt, $90.00
Fanny Gray Skirt, $90.00
Jazmin Black Flare Dress
Gloria, $114.00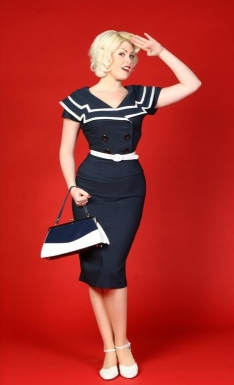 Captain (Navy) Pencil Dress, $160.00