Why is it that the TV shows that I enjoy usually end up being the ones that are canceled? This was also true back in the 80s and 90s when I would fall in love with a sitcom just to have it yanked off the air after just a few episodes.
Can you relate?
But, with the power of YouTube, Tubi, and the like, I am finding these beloved old-school favorites of mine now available online for me to watch at my leisure.
I am sharing my list of 9 Old School Black Sitcoms That Didn't Last Long.
The Royal Family (1991-1992)
Redd Foxx made his sitcom comeback in 1991 with 'The Royal Family' co-starring Della Reese. Foxx played Atlanta mail carrier Alexander Alphonso "Al" Royal as a husband looking forward to retiring when his daughter and three kids move in. The series was off to a great start when Foxx had a massive heart attack while on set and died.
After a short hiatus, 'The Royal Family' returned and retooled with Jackee', but it never hit its stride and it was canceled shortly after. Only 16 episodes aired.
That's My Mama (1974-1975)
'That's My Mama' was a sitcom vehicle for the then-very hot Clifton Davis, who portrayed barbershop owner and neighborhood heartthrob Clifton. Focused on Clifton and his sometimes overbearing mother and other meddling friends and family, the series aired 40 episodes and was canceled in December 1975.
You can watch all of the episodes of 'That's My Mama' currently on Tubi.
New Attitude (1990)
Sheryl Lee Ralph has always been a treasure (remember her in 'It's a Living'?). In 1990, she joined forces with Phyllis Yvonne Stickney for the Ralph R. Farquhar-created series 'New Attitude' on ABC. It was a part of the network's TGIF lineup of Friday night programming and also co-starred Morris Day and Larenz Tate.
Sheryl and Phyllis star as two sisters who pour all of their money into opening a beauty salon in South Central L.A. and all of the gossip and hijinks that come with salon life.
'New Attitude' was canceled after only eight episodes, of which only six episodes aired.
He's the Mayor (1986)
The only thing I remember about this ABC sitcom (I was 11 at the time) is the theme song. Catchy and infectious, I can still hear it to this day.
'He's the Mayor' starred Kevin Hooks as Carl Burke who is elected mayor (at just 25 years old) after the previous mayor was tossed out of office. 13 episodes were taped but only 10 aired.
Sugar and Spice (1990)
'Sugar and Spice' was a CBS sitcom aired from March 30, 1990, to May 25, 1990, as a midseason replacement. Starring Loretta Devine and Vickilyn Reynolds, the sitcom follows two middle-aged sisters in Oklahoma City who are raising their teenage niece.
The show also featured a spicy Leslie Jordan as the owner of Jacques, the restaurant where Loretta Devine's character worked.
South Central (1994)
Fox Network's 'South Central' was another Ralph R. Farquhar-helmed series featuring a single mom Joan (Tina Lifford) and her two children (one being a young and fresh Larenz Tate) and a foster child navigating the often violent streets of South Central Los Angeles.
Joan supports the family by working at the neighborhood co-op market with an aggressive Latina coworker (then relatively unknown actress Jennifer Lopez).
'South Central' was canceled alongside other Black shows like 'Sinbad', 'In Living Color', and 'Roc' because of low ratings. Most viewers including activist Jessie Jackson felt that racism was at play and called for a boycott. Only 10 episodes of South Central aired. I was super sad when this series was yanked off the air.
True Colors (1990-1992)
'True Colors' aired on Fox and focused on a blended interracial family living in Baltimore. I don't remember much about this sitcom but I have watched a couple of episodes on YouTube and–I can see why it didn't last.
The most redeeming quality about this sitcom is that it co-starred Nancy Walker ('Family Affair', 'Mary Tyler Moore', 'Rhoda') as the grandmother and comic foil and she did her best to prop the show on her back. Unfortunately, she died of cancer before the last episode of the series aired.
Baby, I'm Back (1978)
Styled as 'Baby….I'm Back', starred Demond Wilson as Raymond Ellis (Sanford and Son) Denise Nicholas as Olivia Ellis (Room 222), and a very young Kim Fields in her first sitcom role. It is centered around Raymond coming back to D.C. to reclaim his family after being away due to his gambling habit. He comes back wanting to pick up where he left off, but Olivia has other plans and wants to marry someone else.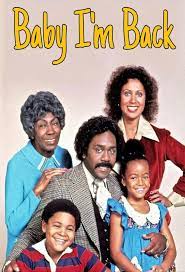 The show wasn't much of a hit and after 12 episodes, CBS canceled the fledgling sitcom. It has been rumored that it was on the chopping block because 'Good Times' was coming back for another season and Norman Lear offered to create another show for the network.
You can find most of the episodes of Baby….I'm Back on YouTube.
Thea (1993-1994)
'Thea' was an ABC sitcom starring comedienne Thea Vidale as a widowed mother of four, three boys and one girl, played by Brandy Norwood in her first acting role. Set in Houston, it followed Thea and her struggle to take care of her family with her hair salon which was attached to her home, and as a grocery clerk turned restaurant co-owner. The series began with high ratings and positive critic reviews but tapered off shortly after.
Thea was canceled after just 19 episodes, but you can see most of them on YouTube.
These old school Black sitcoms came and went, but have provided me with memories that live on to this day. Do you remember any of these shows from my list?
What old school Black sitcoms did I fail to mention on this list?