Winter can wreck havoc on most hair types. With frigid temperatures that often dry out the hair shaft and make hair brittle, the wintertime can be cause for worry when it comes to you hair. The same type of treatments or maintenance that you use in the hotter months may not work in the winter.
Currently, I am wearing a sew in weave, but I still must maintain my hair underneath the wefts and braids. There are several products that I consider winter musts that are perfect for most hair types, and can make your hair luxurious and well moisturized.
Here are my 9 winter hair musts for a luxurious mane:
Shampoos:
Creme of Nature
I have always been a fan of Creme of Nature, and its rich and creamy formula is great to breathe life back into hair that is going out into cold temperatures. The silky formula coats your mane and repairs it, making it feel soft and well conditioned. Creme of Nature can be used on ALL hair types—I had a Caucasian friend of mine back in the late 90's who I would do her hair, and after I used CON on her, she swore by it, and still uses it to this day. Creme of Nature is a girl's best friend.

Pantene Relaxed and Natural (Dry Hair Formula)
I was pleasantly surprised at how much I have come to adore Pantene's Relaxed and Natural shampoo. It cleanses very well, and leaves the hair shaft feeling moisturized, even in the harshest conditions.
Kera Care Dry & Itchy Scalp Shampoo

My scalp gets very dry and irritated during this time of year and Kera Care's Dry & Itchy Scalp Shampoo is always right on time. As soon as it is applied, I can tell it is working, for my scalp feels warm and tingly. I love this shampoo, which is great for all hair types, and is worth every penny.
Conditioners:
Queen Helene Super Cholesterol Hair Conditioning Creme
I have been using Queen Helene Super Cholesterol Hair Conditioning Creme for years and still swear by this formula. My hair always feels renewed when I use it, and it's perfect for the winter months because it restores hair's natural shine where the winter wind and temps may destroy it. It's pretty cheap too, and always delivers great results.
Carol's Daughter Hair Milk Conditioner
When I first used Carol's Daughter Hair Milk, I was not a fan. But when the product was championed by a friend (and I saw the results of how wonderful her hair looked), I decided to try it again. Following the directions to a "T" is essential when using hair products, and Hair Milk is one of the most fabulous conditioners I've ever used. It leaves my hair feeling so soft and smooth, I want everyone to touch it. It is also perfect for weaves and other protective styles.
Styling:
Mizani Shyne Bodifying Sheen Spray
Can you say moisture in a spray? Mizani's Shyne is a lush oil sheen coats the hair perfectly, and gives just enough sheen to make the hair look bright, shiny, and healthy. This sheen is light, not heavy, and is perfect for pretty much all styles. And the smell—absolutely fabulous!
John Amico Thermal Sealant Styling Spray
My former stylist used John Amico's Thermal Sealant Styling Spray as a finisher on my hair and I fell in love it with it, it's THAT awesome. It can be used as a finisher, a protector for heat styles, and a holding spray. Light, yet pliable, it moisturizes and applies shine to the hair cuticle. It is so versatile, that once used, it will become a mainstay in your hair arsenal.
Silk Elements Herbal Hair and Scalp Treatment
A little of Silk Elements Herbal Hair and Scalp Treatment goes a long way. I coat my scalp with this twice a week and it helps to keep it well moisturized between shampoos and conditioning treatments. It will cause build up on your hair so use a small amount for the best benefit.
Luster's Renutrients Slick Stick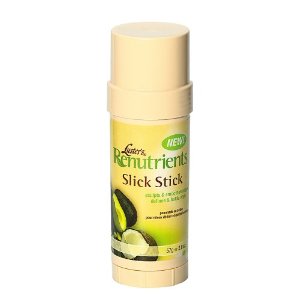 For updo's, ponytails, and styles that show your edges, if you need a smoothing agent, Luster's Renutrients Slick Stick is your product. Not cakey, this product gives you the smoothness you need while protecting. Also great to use when wearing hats or other hair accessories.
As a lover and collector of hair products, I can assure you that you will enjoy these products! Give 'em a try and let me know what you think! Here's to happy winter hair!
I, The Cubicle Chick, have not been compensated to review any of the items above. These are all items that I buy regularly on my own for my winter hair care regimen.