Dancing With the Stars has always been must see TV for me. But the new season and cast is making me all warm and fuzzy. It's chock full of some of my favorite entertainers and boasts and impressive line-up, moreso than other seasons. The mamba and the cha-cha is never going to be the same again.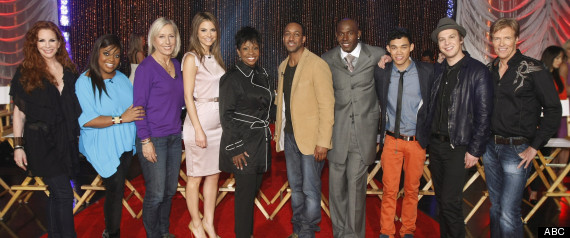 The new cast of Dancing With the Stars 2012 include:
Gladys Knight, soul singer
Sherri Shepherd, The View co-host
Jack Wagner, actor (formerly on Melrose Place and General Hospital)
Donald Driver, Green Bay Packer receiver
Melissa Gilbert, actress (Little House on the Prairie)
Gavin DeGraw, singer
Jaleel White, actor (Steve Urkel, Family Matters)
Maria Menounos, co-host on Extra
Roshon Fagan, Disney star
Martina Navritilova, tennis great
Katherine Jenkins, opera star
William Levy, telenova star
I am so looking forward to seeing Miss Gladys Knight work that dance floor. I think she is going to surprise us all! Other people to watch out for are Donald Driver (the sports people always do surprisingly well on DWTS, especially the footballers), Jaleel White, and Melissa Gilbert.
Last season of DWTS was fabulous, and I loved seeing J.R. Martinez and Ricki Lake tear it up. But this season is going to be a game changer. I love the diversity of the cast.
Season 14  of Dancing with the Stars begins March 19th at 8pm/7pm CST.
Who's gonna watch?
Photo credit: Huffington Post