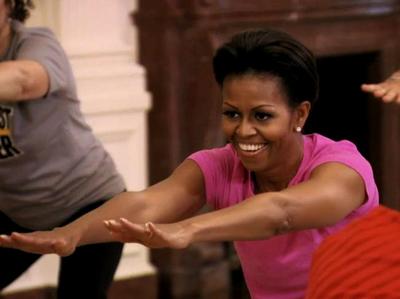 #FitFlyFab is now an agenda of mine. I have been working hard watching what I eat and getting more active so I can be physically fit. I have lost a little bit of weight so far, but it's also been hard maintaining a healthy lifestyle when I travel so much. Luckily, there's FLOTUS Michelle Obama, who looks so amazing—every time I see her, I am reminded just how fly I can be if I practiced good eating habits and worked out on a regular basis.
Recently, Michelle O shared her workout playlist with Women's Health magazine. This playlist gets Michelle inspired while working out. I must admit, as a music junkie, I am quite impressed with her playlist. Check out the tunes for yourself:
1. Stevie Wonder: Signed, Sealed, Delivered (I'm Yours)
2. Beyonce: Move Your Body (Let's Move Theme)
http://youtu.be/MYq0zAQ3lHY
3. Jonelle Monae: Tightrope
4. Sara Bareilles: Love Song
5. Michael Jackson: Unbreakable
6. Willow Smith: Whip My Hair
http://youtu.be/ymKLymvwD2U
7. Beyonce: I Was Here
8. Chubb Rock: Treat 'Em Right
9. Ledisi: Thank You
10. Jennifer Lopez: Get Right
As you can see, Michelle Obama's musical tastes are diverse! I love the way she blends pop, soul, R&B, hip hop, and old school.
In honor of National Women's Health Week, Michelle also wrote an article for Women's Health magazine called 'Taking Control of Our Health'. She discusses how she became more concerned about her health after a chat with her family pediatrician when her girls were younger. The discussion made her realize that there were some changes that needed to be made as it related to the foods that they were eating. It was from then on that Michelle made it a point to make health a priority in their lives, so they began eating out less, watching their portions, and being more active.
That's what being fit meant to me: feeling good inside and out, and taking control of my health.
You can read the full article
HERE
.
Kudos to the First Lady for making being healthy the IN thing to do. She is a great example for all of us to follow!
Doesn't seeing Michelle's devotion to health and fitness make you want to be fit and fly and fab too?