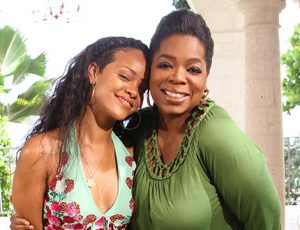 Oprah's OWN cable outlet has been hitting it out the park with their in-depth celebrity interviews. So far this year, Oprah has tapped huge sit-downs with the likes of Lady Gaga, Kim Kardashian and family, Bobbi Kristina, Paris Jackson, and many others. On Sunday, Oprah debuts an exclusive, no holds barred interview with pop princess Rihanna, who gives her unlimited access to her life, her family, and her past relationship with singer, Chris Brown.
This is not the first time Rihanna has publicly discussed her relationship with Brown and their subsequent breakup after he assaulted her before the 2009 Grammy Awards. But this may be her most emotional interview, since she actually gives us insight into how she was feeling directly after the incident.
According to a released snippet of the interview, Rihanna says:
"It became a circus and I felt protective. I felt like the only person they hate right now is him. It was a weird, confusing space to be in because as angry as I was, as angry and hurt and betrayed, I just felt like he made that mistake because he needed help. Who's gonna help him? Nobody's gonna say he needs help. Everybody's gonna say he's a monster without looking at the source. I was more concerned about him."
I, for one, have been looking forward to this interview, because I know Oprah isn't afraid of getting to the real questions we all want answers to. Aside from her relationship with Chris, Rihanna also discusses her "bad girl" image and how she deals with rumors and innuendo. I think that an interview with Oprah is a very good look for Rihanna.
Say what you want about Rihanna, there's not too many singers currently who has achieved the amount of success she has. As far as selling albums and making chart toppers, very few have sold more than she has during the last couple of years.
Oprah's interview with Rihanna will premiere on her OWN property on Sunday, August 18th at 9pm/8pm CST.
A preview snippet from the interview is below. Will you watch?