While I was flying the friendly skies yesterday evening, most of you were watching the first Presidential Debate of the 2012 election season. I love watching the debates and hate missing it. But thanks to social media, I felt like I was still front and center when it came to knowing what was discussed and who was out-boxing who.
And while we might not agree exactly on who actually won the debate, but we just might agree on the fashion choices for the evening. FLOTUS Michelle Obama stepped out to support her husband (on their 20th anniversary, I might add) wearing a blue skirt suit from Preen's 2011 fall collection. According to the Huffington Post, it was a skirt suit that she has worn twice before, showing that she repeats clothing just like the rest of us. The choice of the royal blue ensemble made her look stately and confident while being sleek and regal.
Her counterpart Ann Romney selected a white skirt suit with well placed piping that suited her well. One of her better fashion choices to date.
Yes, some of us really care not only about politics as usual (or unusual, cue Sesame Street music), but fashion too!
Here are a few pictures below of Michelle and Ann, who both acted like class acts during, what is sure to be, a well-talked about debate in the days to come.
What do you think of these skirt suits?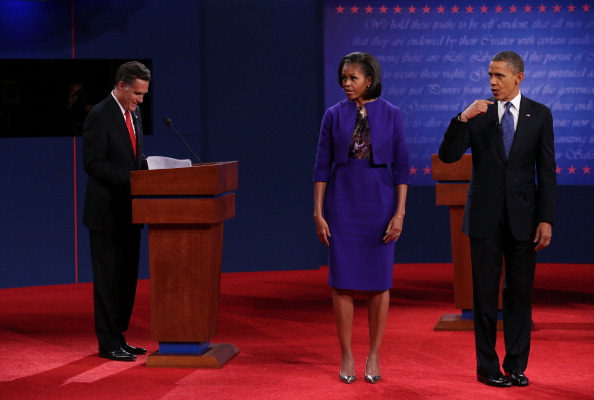 Photo credit: Getty Images