During the past 11 months, I have been blessed! I got to travel a lot this year and do so many things in different parts of the country. And while I didn't make it overseas, I managed to travel at least once each month of the year. Sometimes, I was in the air more than I was anywhere else!
I got to meet some incredible people and partake in some fabulous events and fun. I wanted to take a look down memory lane at all of the wonderful travel experiences I had this year—what better way to do that than with a countdown of my favorite Instagram photos from 2012?
I started on the Instagram photo social network in February, and managed to take a few photos during my trips with the help of the picture filtering application.
Here are 10 of my favorite Instagram Travel Photos from 2012, in no particular order:
10. Barnyard Perspective
I took this photo earlier this month during a visit to Grapevine, Texas. We are actually visiting Cross Timbers Winery and partaking in a fab wine tasting when some of my fellow travelers asked to go to the back of the property to see the barn, which is used for weddings and receptions. It was an overcast day and made for a really gorgeous shot on my iPhone.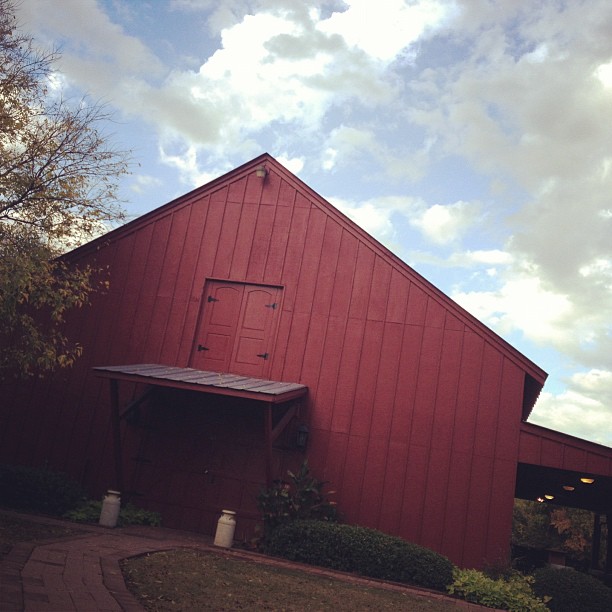 9.  Versace Mansion
In May, I was an attendee at the Mom 2.0 Summit which was held in Key Biscayne near Miami, and we were invited to a special Intel sponsored party at the Versace Mansion. I've been to Miami's Ocean Drive and seen the mansion from the outside a few times, but never had been inside—until this event. I got a photo of us walking through those infamous doors, and it was definitely a highlight of my year.

8.  Dress in the Window
During a visit to Atlanta in March, I saw this fabulous dress in the window of a store called Mooncake. The dress was made entirely out of tissue paper. Interesting, huh? Photo perfect!
7. Times Square, Baby!
The Big Apple is my favorite city! I managed to visit NYC twice this year, and I couldn't get enough. I took this shot during a rainy night trek in Times Square while in Midtown for BlogHer.
6.  A View From the Suite
While in Key Biscayne for Mom 2.0, I stayed at the Ritz Carlton, and for some reason, was given a posh suite! This is the view that greeted me on the last morning of my stay. It was so beautiful!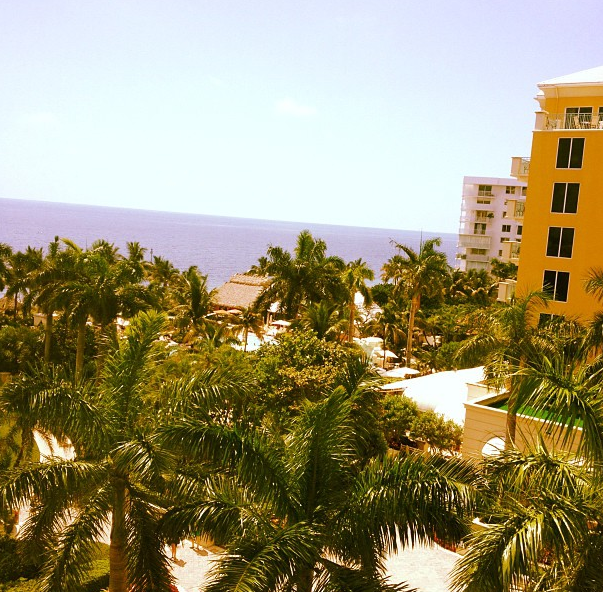 5. Cafe Du Monde
The historic Cafe Du Monde in New Orleans is a must-visit. Their beignets and cafe au lait is to die for, and I had a great time in New Orleans while I was there for Mommy Niche.
4. Chicago's Michigan Avenue
Chicago holds a special place in my heart, and it's become my home away from home. During my first visit of 2012 to Chicago, I took a photo of the view from my room. It's a view that I see every time I visit, since I stay in the same room at the wonderful Comfort Suites Michigan Avenue.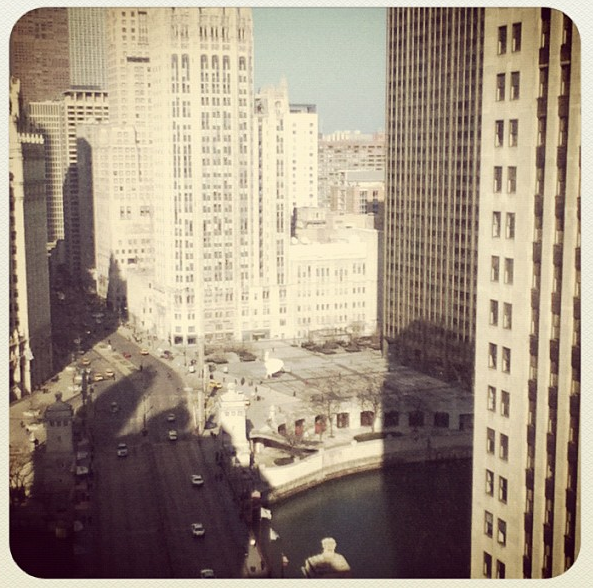 3. Lake Tahoe Hula Hoops
I visited Lake Tahoe and Squaw Valley for the Wanderlust Festival on behalf of Toyota, and loved being in the mountains. I can't believe I didn't take more photos, especially of the mountains. I did manage to snap this shot on my way to a yoga class of a few Wanderlust attendees getting some hula hooping in.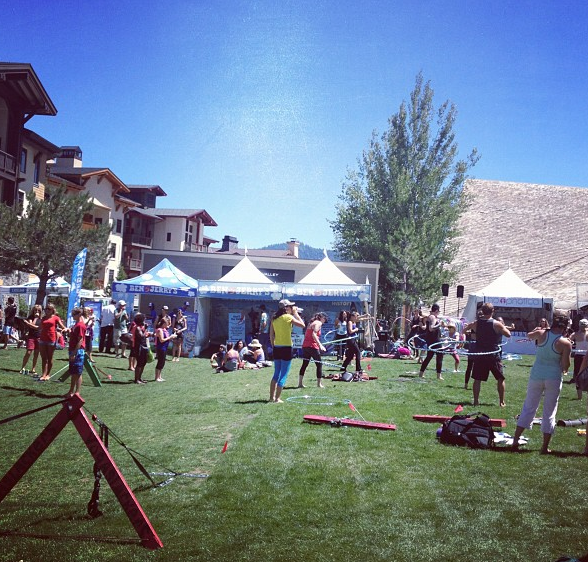 2. Air Force One
While I was in Las Vegas in September for Blogalicious waiting for a flight to LAX, my plane was delayed because the President was landing at the airport for a fundraiser. I managed to get a shot of Air Force One while standing on a chair. Everyone rushed to the window to get a look.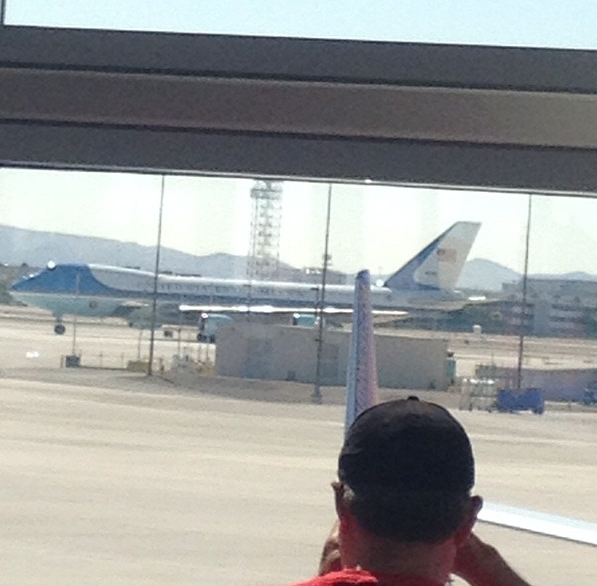 1. Empire State of Mind
On my 2nd trip to New York, I was only there for 1 day! While walking back to my hotel with a group of bloggers, they told me to look up—and there it was! The Empire State Building. I got a quick shot of it for memories.
 (Oops I Forgot One!) My Cabin in the Woods
In October, I got to go glamping in SoCal at El Captian Canyon in Santa Barbara. While you could hardly call this roughing it, I got as close to nature as I ever have been. My cabin in the woods was quaint, cozy, and surprisingly, stylish!
2012 has been an awesome year for me travel wise. I can't wait to see what 2013 has in store!