If you are anything like me, then you are sure to have a few foodies and home chefs on your Christmas list. As someone who has gotten into the groove of cooking later in life, I adore gifts that are food or cooking related. Getting new cookware or a new kitchen gadget to add to my collection makes me happy—I guess you can say I am easy to please.
Giving a gift of something fabulous for the foodie or home chef on your list shouldn't have to be a chore. There are so many options out there! And here are 8 of them I think that make great gifts for under the tree.
Take a look and see for yourself! Here are my selections for The Cubicle Chick's 2012 Holiday Gift Guide: 7 Gifts for Foodies and Home Chefs:
Bamboo Bowls
These fabulous mixing bowls (sold in a lot of 3), are great for mixing together ingredients or serving. Made of bamboo, they are long lasting and easy to clean and even safe for the microwave and the dishwasher. I purchased these during a Pampered Chef Virtual Party and am so glad I did. If your foodie or chef is eco-friendly , these bowls are perfect! $39.50 for the set of 3.
__________________________
EatSmart Precision Pro Digital Food Scale
Foodies and home chefs love to cook and eat, but they also may be watching their weight. A digital food scale is a must have to make sure you are measuring your portions and tracking what you are eating accordingly. I love this Eat Smart Digital Food Scale because it's light and doesn't take up much counter space. It also has big numbers for easy reading and different measurement setting including ounces and pounds. It can even measure up to 11 pounds! A must have for the kitchen. $25.00, Amazon.

__________________________
Flirty Skirted Apron
If the foodie or home chef on your list is a girl, well, she may enjoy looking fab while preparing a great meal. There is something about an old fashion apron that makes me feel Sex in the City meets June Cleaver. This fun and absolutely adorable Flirty Skirted Apron from Natasha's Houseful of Stitches Etsy Shop is uber cute! I think it's a perfect and unique gift option, and will stick out as a memorable gift. $22.00 + $5.00 shipping and handling. Order now. Since these are custom made, it takes 7-10 days for delivery.
__________________________
Lodge Cast Iron Dutch Oven
Recently while cooking for Thanksgiving, I got to see firsthand the importance of having a Dutch Oven. They are perfect for slow cooking sauces, soups, stews, roasts, etc. Every home chef should have at least one dutch oven. Dutch Ovens can be pricey, but I found an old school cast iron one at Williams-Sonoma for $58 for the 5 oz and $89.95 for the 7 oz. Long lasting, sturdy, durable, and a chef's dream, giving a gift of a high quality dutch oven is something you will be thanked for over and over.
__________________________
Steak Sampler, Chicago Steak Company
The gift that keeps on giving? Perhaps. If the foodie or home chef on your list has been really good, you may want to treat them to a gift from the Steak of the Month options from the Chicago Steak Company. You can give the gift of the Chicago Steak Sampler that is filled with goodies:
Chicago Steak Sampler     ASSRT400
2 (6oz) Black Angus Filet Mignons
2 (8oz) Black Angus Rib Eyes
2 (6oz) Black Angus Flat Irons
2 (6oz) Black Angus Top Sirloins
16 (4oz) Angus Steak Burgers
4 (6oz) Lemon Herb Chicken Breasts
You can buy this as a one time option or in a lot so that the recipient can enjoy it more times throughout the year. The option shown is $159.95 and is 57% off of the regular price! Yummers!
__________________________
Cedar Berry Pure Vegetable Hand Soap
Recently while shopping for candles at K. hall Designs, I came across this wonderful hand soap that smells amazing. This soap is perfect for the kitchen when washing hands while preparing meals to prevent cross-contamination. It is a natural soap and makes your hands smell good an feel soft. But don't let the name fool you—it breaks down grease on your hands, so be rest assured that while cooking, your hands will be spic and span. $30.00, different fragrances available.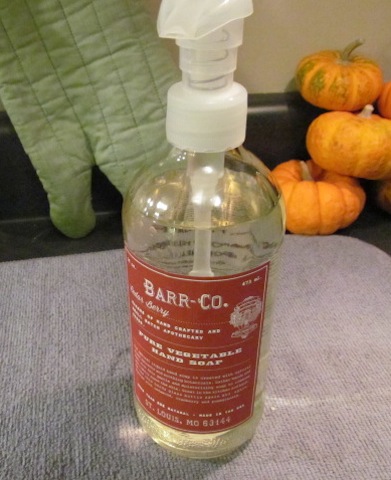 __________________________
Vidalia Chop Wizard
While at a cooking class earlier this year, I came across this beauty. Who wants to suffer through cutting onions and other veggies when you can just place them in the chopper and viola, everything is diced and sliced. One smooth hand motion, and it's done. No electricity needed, and it's dishwasher safe. There are many versions of this, but I really like the Vidalia Chop Wizard. You can purchase it online or in stores like Bed, Bath, and Beyond. $19.99
__________________________
Miss Grace's Lemon Cake
Lemon cake complete wit frosting with butter and sugar and all of it's deliciousness! I've had some good lemon cake in my day but Miss Grace's Lemon Cake from Cheryl's is THE BEST I've ever tasted. It's so fresh, it's hard to tell it isn't straight out of a bakery. Made from scratch and delivered straight to your gift recipient, they will love you for life after they've tasted this cake. $29.99.
Woo, wee, honey! After writing this post, I am in need of some nourishment in the form of steak, cake, veggies, something! I hope you like these gift ideas for the foodie and home chef in your life!
Disclaimer: Some of the items listed in TheCubicleChick.com's 2012 Holiday Gift Guide were sent by the brand or company to us at no charge. This is not a paid nor sponsored post, and all opinions listed within belong to the author and are not indicative or any brands or companies mentioned.
To check out my 2012 Holiday Gift Guide: Fab Gifts for Girlfriends and Besties