Written By: DIY & Craft Contributor, Katie Femia
Some DIY projects make you happy just by looking at them! If you need a little inspiration for your next plant container, just look to your feet! Did you know that your very own shoes make easy planters for herbs, succulents, and other leafy plants that all do well in small spaces? They sure do! Forget spending big bucks at your local home and gardening store on planters. Instead, upcycle your old shoes and boots into one of a kind planters for your spring blooms!
Do you not have a green thumb? No worries. The best thing about shoe planters is you use plants that don't require a great deal of work or TLC. Using herbs such as mints, succulents, hens and chickens, and other shallow root varieties is key when planting your shoe planters. No green thumb is required and the plants will easily maintain themselves.
So how do you get started? First, comb your closet or even thrift stores for old shoes. You want to find something bright and whimsical if you can. Rain boots are usually perfect for this craft since they come in a variety of fun colors and designed and are deep for planting. Crocs, cowboy boots, and even kids tennis shoes also work fine. If you can find a pair that is damaged, all the better since this will breathe new life into it.
Once you have your planting vessel, you are ready to begin! Here is how to make your own Savvy and Sensational Shoe Planter!
Savvy and Sensational Shoe Planter:
Supplies:
Pair of shoes/boots as mentioned above
Potting soil
Cell of plants (choose herbs or succulents)
Spoon or shovel
Water
Knife
Nail
Hammer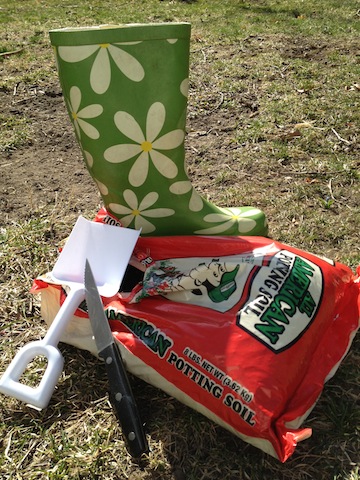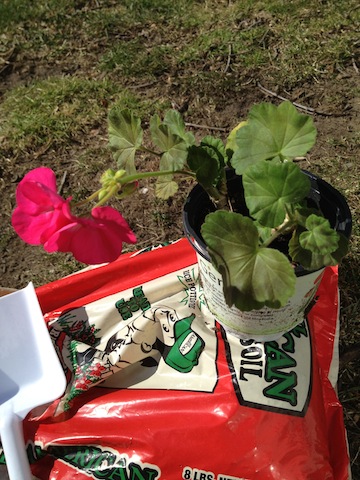 I was able to find everything either in my own garage or closets, but should you need any of these items, check out your local thrift store or dollar store. Thrift stores have an abundance of shoes, shovels, spoons, etc. while dollar stores have potting soil, hammers, nails, and even fresh herbs.
Directions:
1. Using your knife or your nail and hammer, put drainage holes in the rubber soles of your shoes. 3-5 in each shoe is perfect. Drainage holes will allow for water to run through when you water and help you avoid drowning your plants, so don't skip this step!
2. Fill your shoes with potting soil. If you wish, you can put some sand or gravel in first to act as a filler and filter, but this is not a must. Allow for a few inches to remain in your shoe.
3. Add your plant! Add one plant per shoe. Just dig a small hole, place your plant in, and fill in around it so it is nice and cozy.
4. Water lightly to help it settle into place.
5. Place your shoes in an area that will get plenty of sun and water often. These shoe planters look adorable on a gardening bench, porch, or you can even place them on wire and hook them onto your fence!
Your planters will need to be treated just like any planter in the sense that you should bring them in if there is frost, water often, give them lots of sun, and treat for pests and weeds. If you found a great pair of boots or shoes and they don't match your landscape colors, you can always spray paint them if you wish to give a pop of color!
Should you wish to use your shoes as indoor planters, simply place on a plate or saucer in case they leak. Or, you can also line the inside with a plastic shopping bag to keep mud in. These can make fun centerpieces for a garden party or garden themed shower, that's for sure!
Mother's Day, a gift for a sweet neighbor, or just because are all great reasons to whip one of these savvy and sensational shoes planters up. They are not only a fun conversation piece, but an excellent way to give life to an old pair of shoes. Whimsical gardens are all the rage, and kids and adults alike will have fun creating these.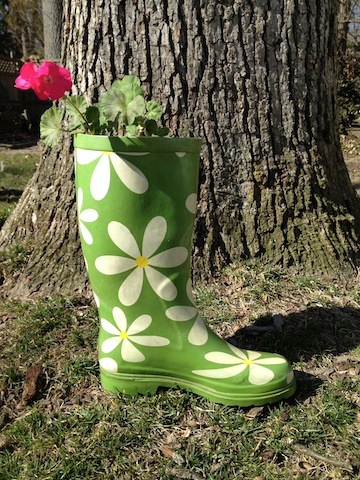 The best part? At the end of the season just empty these and store in your garage or shed. They will be good and usable for years to come!
So head to your local thrift shop, or look no further than your own closet! Making your own savvy and sensational shoe planters is easy, fun, and frugal. I can't think of a better way to ring in spring!
Happy Gardening!