May brings many things with it such as warmer weather, longer days, and of course Mother's Day. But the arrival of May also brings some patriotism with it with the arrival of Memorial Day! Memorial Day is a great time to gather the kiddos and get crafting as you talk about all of the things, people, and events that make this country great! This year, get the kids to be hands on, literally, with this nifty and fun Memorial Day Flag Craft! This flag is not only a blast for kids to make, but it is simple and thrifty too!
To make your own Memorial Day Hands On Flag, take a peek below. The materials are easy to come by and the directions are a cinch. Plus, it give the kids a chance to get a little dirty which they love. So take a look and see how you can whip one of these flags up for this year's Memorial Day celebrations!
Memorial Day Hands On Flag:
Materials:
1 large poster board
Finger paints in red and blue
Paint brush
Pencil
Plastic tablecloth
Baby wipes
Easy right? Head to your local Dollar Tree if you have one, where poster board is only .50 cents a piece and finger paint trays that actually fit to your child's hands and feet are only $1.00 each.
Directions:
1. Lay out your tablecloth for easy clean up and to protect your floors. If it is a nice day out, you can just take this activity outside!
2. Use your pencil to lightly mark off the box of stars on the flag and the lines. You won't be able to make an accurate depiction of the flag since the poster board is small, but it will still look great!
3. Have the kids first dip their hands in blue. This will make their stars. Have them put some prints in the star box to the upper left. Whatever you can fit is fine and will depend on the size of your child's hand.
4. Next, dip their feet in red and make your red "stripes" running across the length of the poster. These don't have to be perfectly straight. Just have fun!
5. Use your baby wipes for easy clean up on hands and feet.
6. When you are done you will have your red, white, and blue Memorial Day flag décor ready to display! Allow it to dry well before hanging.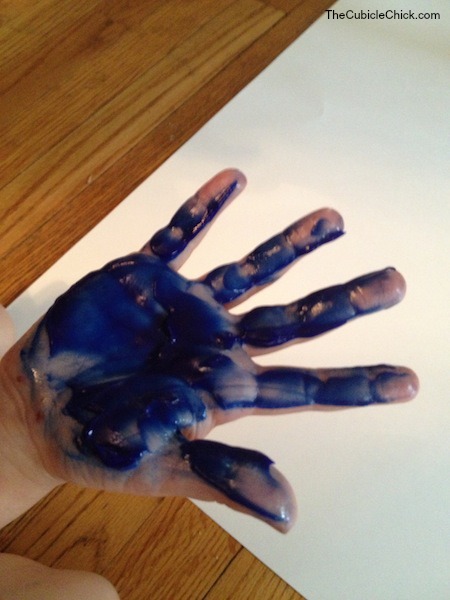 Feel free to add any text you wish such as the date or event. This will look great hanging not only in your house but on display at your Memorial Day cookouts! Kids will enjoy getting messy and creating a cool project, and you will enjoy how easy it is, how simple clean up is, and how budget friendly this project is.
Get ready for Memorial Day with this colorful project and display it with lots of patriotic pride!
Happy Memorial Day!
Written By: Katie Femia, DIY & Craft Contributor