Disclosure: I was loaned this vehicle in exchange for my social influence and honest review. The opinions in this review belong to me and are not indicative of the companies or brands mentioned.
Back in May, my daughter and I went to Los Angeles to visit my son for a few days during the Memorial Day Weekend. You can read all about that adventure here. One of the reasons we were able to get in so many activities, including a visit to Disneyland, was due to the Mazda3 i Grand Touring that we were loaned for our trip. I didn't have any prior experience with a Mazda, so I didn't know what to expect—but as soon as I got in the vehicle and got familiar with it, I was immediately in love.
And while there were many reasons why I really liked the Mazda3 i Grand Touring, there are 4 that really stood out for me. So here they are!
4 Reasons to Love the 2013 Mazda3 i Grand Touring:
Fuel Efficiency
During our entire three day trip, which took us all around Los Angeles, Anaheim, and the surrounding areas, I only filled up once. The 2013 Mazda3 i Grand Touring gets about 40 MPG, and really gives you a lot of bang for your gas bucks. Granted, many of the miles we did drive were highway miles, but we also trekked around the city too in places like Hollywood, Beverly Hills, and Santa Monica. This is one of the most fuel efficient cars I've driven, and the only one I can think of that is better on gas is the Toyota Prius C3.
Superior Interior
The inside of the 2013 Mazda3 i Grand Touring looks amazing. I love the "control panel", the seats, the blue floor lights which light up when it's dark, the stereo system, and the sunroof. The car is spacious, and has dual temperature controls. And with MAZDA Navigation, I was able to find  all of the places we were looking for with a touch of a button. It's sporty inside and out and is quite fun to drive. I actually enjoyed driving this vehicle.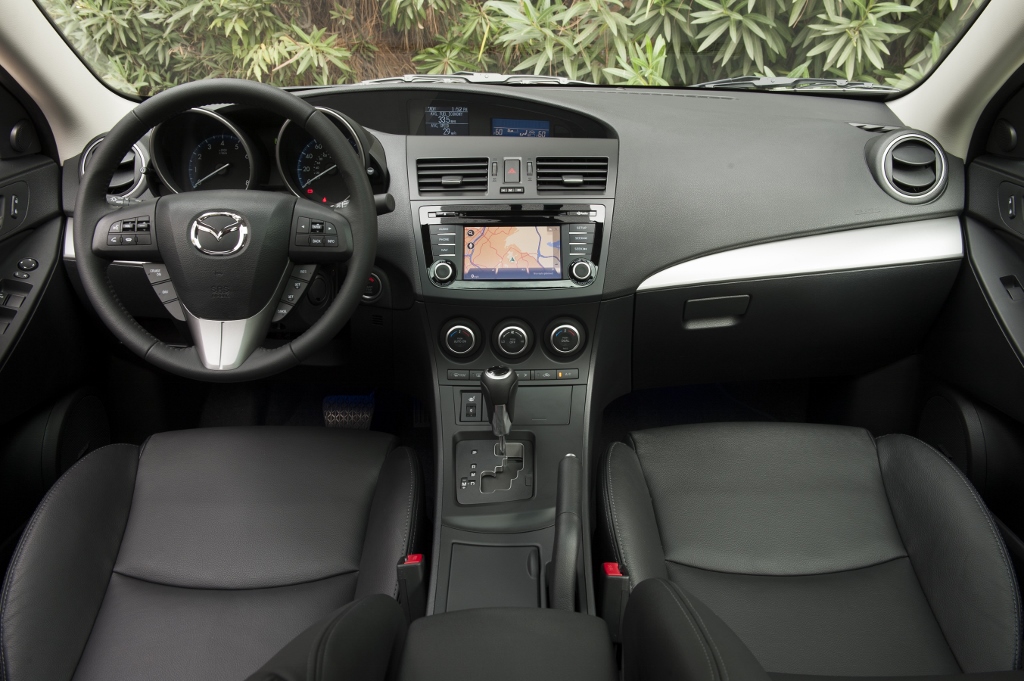 Blind Spot Monitoring
Okay, this feature freaked me out a little bit, but I got used to it, and it actually helped me navigate through the perilous Los Angeles freeways. The 2013 Mazda i3 Grand Touring has Blind Spot Monitoring (BSM) which warns you when you have a vehicle that is in your blind spot. When a vehicle is close to you that you cannot see, an alert lights up on your side-view mirror that tells you that a vehicle is in your blind spot. And when you use your turn signal, a sound will alert you as well. This is a great feature.
Horsepower, Baby
Don't let the Mazda3 name fool you. This sporty sedan has plenty o' horsepower for those times that you need it. The 2013 Mazda3 i Grand Touring touts a 167 horsepower 2.5 litre DOHC engine, and I was swerving (safely of course) in and out of the L.A. lanes effortlessly. This car has some get up and go!
The 2013 Mazda3 i Grand Touring has an MSRP of $22,800 and can be customized to your liking. For more information, click here to visit Mazda's website.
This vehicle is definitely Cubicle Chick approved, and I look forward to driving one again in the future.
Thank you to Josh at Drive STI for lending me the wheels!