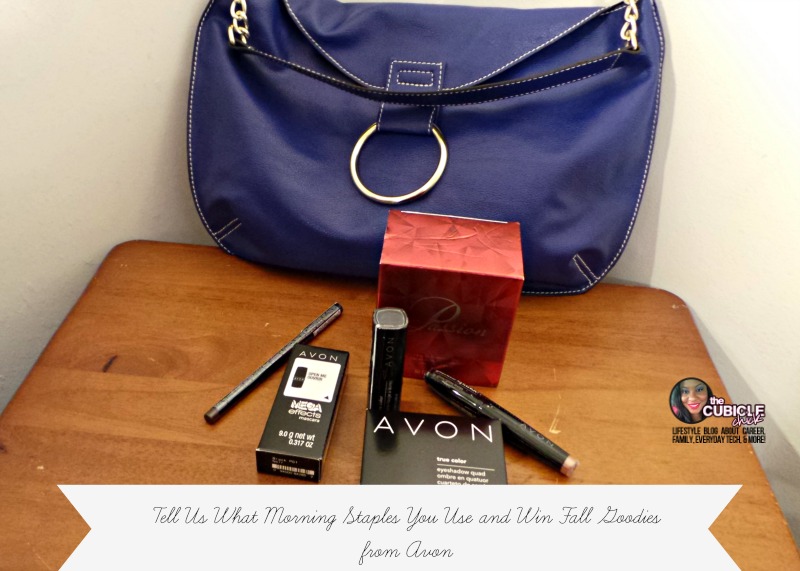 It's that time again! As promised, we are giving some awesome goodies away from our friends at AVON. As you may know, I am an AVON Brand Ambassador covering career and entrepreneurial stories shared by their representatives. But I also wanted to share some of their products since many of you have expressed your love for AVON and their many product lines. AVON has been a brand that women have come to love for over 120 years, and they certainly have become a part of my morning routine. So I wanted to know about what beauty products you use in the morning before you start your day, regardless if they are AVON or other beauty brands.
Simply share your morning beauty routine in the comments below, and you can win a fab handbag of AVON's hottest and most popular Fall beauty products to add to your arsenal.
Here's a description of the AVON Fall products in our giveaway:
AVON Passion Eau de Parfum Spray (50 ml/1.7 fl. oz), $36
AVON Ultra Color Lipstick in Golden Berry, $8
AVON Ultra Glazewear Sparkle Lip Gloss in Mocha Latte, $6
AVON Mega Effect Mascara in Black Noir, $10
AVON Supershock Gel Eyeliner in Intense Brown, $8
AVON True Color Eyeshadow Quad in Romantic Mauves, $7
Big Ring Handbag in Blue, $24.99
This AVON Fall Beauty Giveaway is worth $99.99. Not too shabby!
To enter to win the giveaway, simply leave a comment below describing your morning beauty routine. If you'd like, you can also share tips on how to make help make the morning beauty routine a simple and speedy one.
You also must tweet the following:
"Enter to win Fall @AvonInsider beauty goodies from @TheCubicleChick. https://www.thecubiclechick.com/?p=23136. Fab items perfect for Autumn!"
That's it!
This giveaway is open to U.S. and Canadian residents only, void where prohibited. This giveaway ends on Monday, October 14th, 2013 at 7pm EST. One winner will be selected at random. If the winner does not claim their prize within 48 hours, another winner will be selected. Please make sure to use a valid email address when leaving your comment, for that is the email address that we will use to contact you should you win. Make sure it is an email address you check regularly.
Fall is upon us, and with it, comes beauty products and colors that are just right for the season. These Fall AVON goodies are a perfect addition to any girl's Autumn beauty regimen.
Good luck!