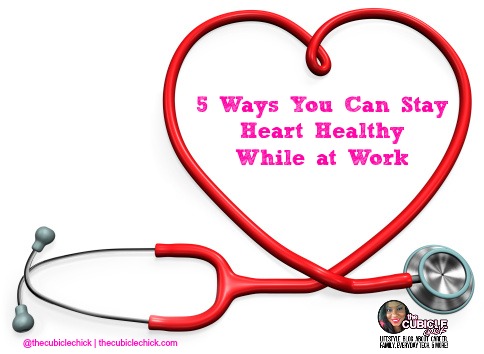 February is American Heart Month, and as a Go Red Blogger, I am all for heart health and awareness. Heart disease, heart related illnesses, and stroke are the leading cause of death amongst women, which means that we have to do our part to stay heart healthy and heart smart no matter the month. It is up to us to make sure we help educate ourselves and one another.
Most of us spend many hours of the day working. And depending on your occupation, you may be spending those hours sitting down or being sedentary due to the restraints of your workplace. When working, it is important to stay active and mobile, not allowing yourself to be still for too long. And doing so gets the heart rate moving, which can increase metabolism and burn calories which is an important component to heart health.
I've created a list of 5 ways you can stay heart healthy while at work. These items are all easy to do and may require a little additional prep on your end, which can go a long way towards your overall wellness.
Don't always rely on email and messaging
Email and inner office messaging are great to send information back and forth, but do nothing for your activity level. Instead of always relying on these forms of communication, make a habit of answering at least half of your emails and messages in person. This gets you up and walking around while staying active. And yes, I understand that emails provide a "paper trail" that is important for office communication, so you can always send an email AFTER you've talked to your coworker in person reiterating what you discussed in person. It's a win/win.
45/15 rule
If you sit and/or are stationary for 45 minutes, get up and walk around for 15 minutes. Go make those copies you've been putting off, get some water from the watercooler, walk downstairs to get a breath of fresh air. The key is to not be sedentary for longer than 45 minutes at a time if you can. It also gives you a goal to go after which can be a great way to get you moving.
Partner, please
Have a partner at work who can help you with your wellness goals. You can encourage one another and get moving together, which can make things easier for the both of you. It also can be fun, too!
Stay away from the vending machines
Most vending machines are filled with items that aren't heart smart. Stay away from them and opt to bring in your own snacks and goodies. Pack three to four snacks a day to ensure that you won't be fishing for change for the machine. Yogurt, string cheese, chopped veggies like celery and carrots, cheese and crackers (low sodium of course) are great snack options. Peanuts are also a great option and since they have no cholesterol, are heart smart as well (as long as they are unsalted). Click here to read why peanuts are a superfood and perfect for aiding Work Life Balance. Bringing your lunch, too, well help keep you on track.
 Be creative
Staying active at work can be tricky, but it can be done. Since I work at home, I've found unique ways to get moving, even when I am working. When I am having a conference call, I walk in place while on the phone, marching, or moderately stepping in place. I also stretch while reading emails, and I will leave my smartphone or other items downstairs on purpose, which causes me to walk downstairs when I need to retrieve them. The key is finding what works for you, and keeping it in your daily regimen.
Also, wearing an activity tracker like a FitBit or Jawbone UP can help you track your progress for the day, and even encourage you as needed. Many activity trackers have a heart rate feature that can show you just how heart smart you've been for the day.
No matter your job or workplace setting, you can be heart smart while working. Do you have any tips you'd like to share on how you stay active at work?