Curating the perfect handbag collection can be daunting. A one-purse-fits-all approach doesn't work for a diverse wardrobe, but buying a handbag to match every outfit is not an option for most of us. What's a budget-conscious stylista to do? The key is to buying handbags is to determine the desired ratio of fashion to function based on your lifestyle – and every purse should have some element of both. We've come up with the top five must have handbag styles to keep your essentials close and chic, year-round. (Bonus: we've included some of 2015's now-trending handbags!)
Cross-Body Purses
Every woman needs the freedom to carry her items and still do tasks that need both hands. (No, we're not talking about a fanny pack.) The cross-body purse is the quintessential hands-free handbag. You can find modern updates of this classic pocketbook in virtually every size, color, and fabric. Tip: pay attention to the length of the strap when selecting a cross-body bag. When worn diagonally across your body, it should ideally hit right around the hip. Sling it on, and forget about it!
Kate spade purse / Purple handbag / FOSSIL black crossbody purse / Chloé genuine leather handbag / MICHAEL Michael Kors 'Bedford Tassel
Clutch Purse
For special evenings, a bulky purse doesn't cut it. A sleek, sparkly clutch accents a fancy dress and elevates a jeans-and-cute-top ensemble. Clutches come in an array of colors and materials, but have one thing in common: they are strictly for carrying essentials. Case in point: ultra-elegant minaudières are bursting with style, but hold little more than a lipstick. For smaller or thinner clutches, a phone-fit test is highly recommended.
CÉLINE celine handbag,/ Monsoon blue handbag / Red purse / Crocodile handbag / Yves Saint Laurent python handbag / Rebecca Minkoff neon yellow handbag / Rainbow Club silver evening handbag / Genuine leather handbag / Betsey Johnson evening clutch
Satchel
To complement your professional wardrobe, a satchel is up to the job. Characterized by short handles and designed to be worn on your hand or wrist, the satchel's structured shape is stylish and practical. Grab a larger satchel for important papers or carry a smaller bag for a touch of class in the office. Neutral-toned satchels go with most outfits, but if you want a handbag that will work overtime into happy hour, consider a medium-sized satchel in a playful color like aquamarine.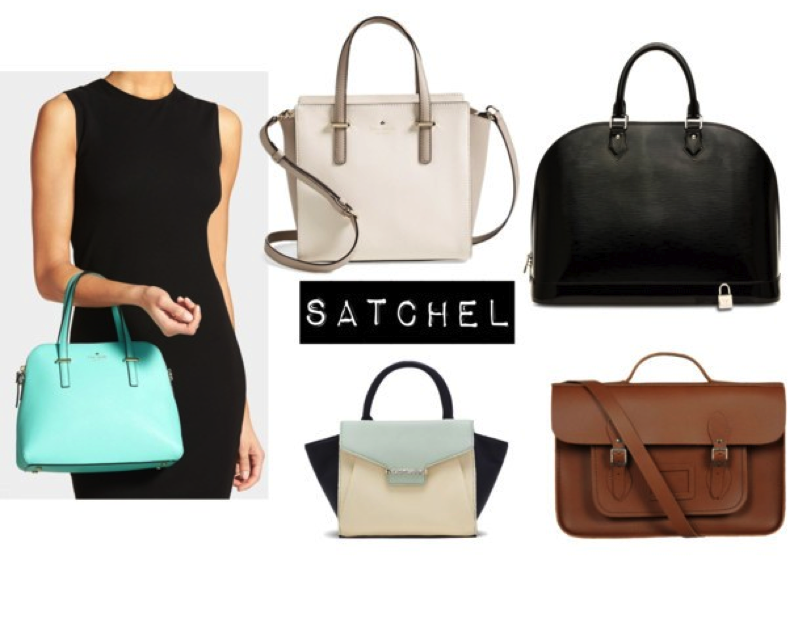 Louis Vuitton black leather satchel / Kate Spade genuine leather purse / The Cambridge Satchel Company leather satchel / Vince Camuto metallic handbag / kate spade new york 'cedar street-maise' satchel
Tote Bag
For shopping, weekend getaway necessities, and general stuff-lugging capabilities, nothing beats a tote bag. You can keep it casual with a canvas bag or up the fashion ante with a sturdier leather tote. The only caveat is that the unstructured roominess can lead to frustrating rummages for important items, so look for a tote with smaller inside pockets.
Snake print handbag / Kate Spade white handbag / MARC BY MARC JACOBS tote bag / Canvas tote/ TOMS white purse/ Madewell 'The Transport' Leather Tote
The It-Bag
Once you've acquired the basic collection of handbags, there's room for one more: the "it" bag. While the aforementioned purses are staples, the "it" bag is all about having fun with trends. 2015's trending purses include the convenient handheld clutch, 70s-inspired saddle bag, and pretty floral prints. Designers like Marc Jacobs and Versace ditched the standard rectangle for circle-shaped purses. Ralph Lauren and Phillip Lim are championing the comeback efforts of drawstring bucket bags. "It" purses are a low-risk way to try a trend, but budget wisely. Your "it" bag may be "out" next season.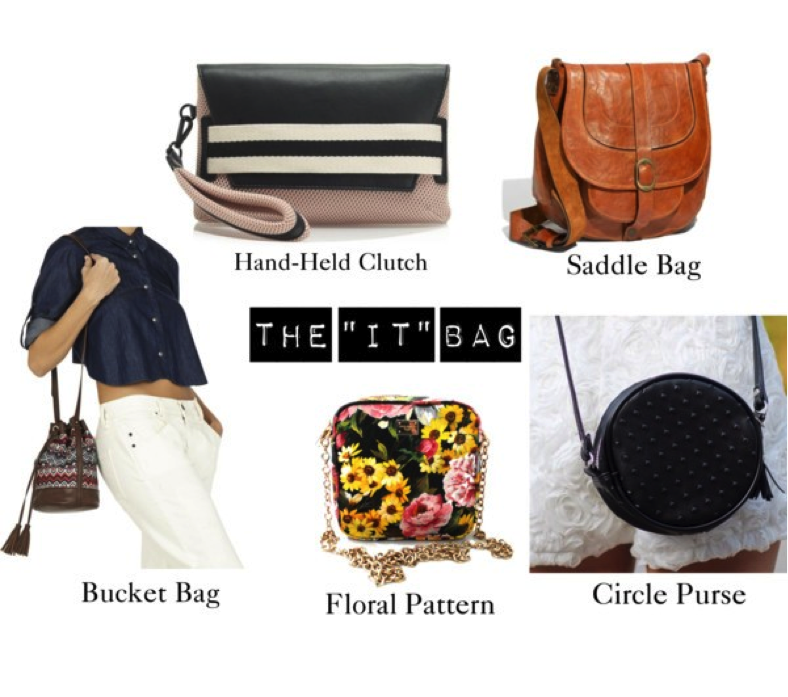 Handbag / Crossbody purse / J Crew clutch / Dolce Gabbana pink bag
With these handbag styles and options, there is at least one that should fit your lifestyle. Which one is your fave?
About Carmen:
Carmen Boeser is a freelance fashion writer, thriftaholic, and vintage lover. She chronicles personal style and love for the St. Louis fashion scene on her blog, The Ruby Zipper. When Carmen is not processing merchandise at a resale boutique, she's learning the joys of new parenthood with her husband and baby daughter.