I spent a week in New Orleans in July for the 2015 Essence Festival. As I mentioned in my previous post about this year's activities and events, one of my personal favorite parts of the highly attended event is the concert offerings. For four straight nights, the Essence Fest treated us to music and entertainment by some of the world's best and most creative artists in music. And night one not only featured two of R&B's hottest guys out right now, but also gave us a tour stop of Kevin Hart's latest show.
This is the thing—I love music. I grew up listening to all kinds of music, as both of my parents were avid music fans. I didn't get to attend a lot of concerts in my early adulthood, so now, I am making up for it, and I try to go to shows each chance I get. So the Essence Fest is a prime opportunity to party in the Superdome while getting to listen to some of the best artists around, young and old.
On top of going to the Essence Fest for a good time, Verizon hooked me up with awesome floor seats in the Mercedes Benz Superdome, so I got to catch all of the shows up close. As one of the sponsors of the Essence Fest, they were in Nola to spread news about their community efforts which include their HopeLine initiative; with donated old phones, Verizon then uses these resources to help those who are suffering from domestic abuse. Since its inception in 2001, Verizon's HopeLine has collected 11.4 million phones nationwide and has given $29 million+ of cash grants to domestic violence organizations.
I am not only a Verizon customer and a brand ambassador, but I am also proud to work with a company that does so much for the community. And thanks to them, I got to see the shows in two of the best seats in the house.
Here's some photos and highlights from my 2015 Essence Fest concert experience. (and all of the photos below were taken with my Samsung Galaxy Camera powered by Verizon 4G LTE):
Frankie Beverly and Maze
I grew up listening to Frankie Beverly and Maze and I especially remember my dad putting on their records on Sundays when he was maxing and relaxing around the house. He used to make me dance with him to Joy and Pain as well as We Are One, and even though I didn't like it much then, I cherish these memories now. Frankie Beverly and Maze aren't from my generation, but I've always wanted to see them in concert. And thanks to Essence and Verizon, I got the opportunity—and it made me feel closer to my dad who is no longer with us.
Erykah Badu
Erykah is someone I can see in concert over and over. She is awesome performer who always showcases her personality and uniqueness with a twist. Erykah put on a show singing her hits including On and On, Next Lifetime, and Love of My Life. When she hit the stage, everyone was grooving, and she did her thing.
Usher
I saw Usher perform live during the 2010 NBA All Star Game in Dallas, but it was a short show during halftime. For Essence, he lit up the stage for over an hour singing many of his hits including Make Me Wanna, Nice and Slow, Let It Burn, My Boo, and his latest with rapper Wale, The Matrimony. I loved every minute. (Wale is also a part of Verizon's Now Playing Tour which took place in several cities leading up to the Essence Festival).
Missy Elliott
Missy is now back on everyone's lists after showing out during the 2015 Super Bowl Halftime Show. She hit the Essence Fest stage where she left off, and it was like she never left. She took us back to I Can't Stand the Rain, Hot Boys, Get Your Freak On, and Work It, and even came out to the audience and danced with the crowd. We all got our life that night. She's an incredible performer.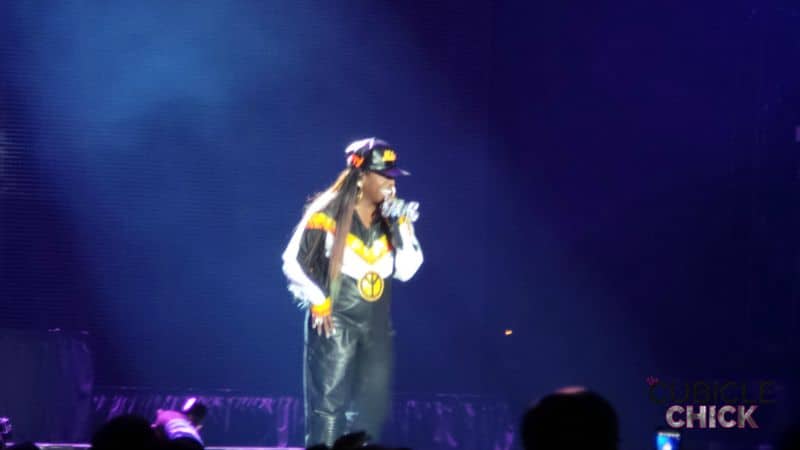 Charlie Wilson
My favorite act of all the concerts was Charlie Wilson. he really put his all into the show and sung his old stuff with The Gap Band, and his solo stuff. He even took us to church, and most of us in the audience didn't want him to leave—we could've partied all night long. If you haven't seen Uncle Charlie in concert, I suggest you do so whenever he comes to your town. Seeing him is worth every penny.
Unfortunately, I made the decision to leave Sunday morning (I had been in Nola for a week), so I missed seeing Mary J. Blige and Kendrick Lamar. I saw Mary perform last year at the 2014 ESSENCE Fest, but this year she brought out Method Man to sing their popular 90's duet All I Need (To Get By). I so hate that I missed that! I've also never seen Kendrick Lamar live, so I am kicking myself. I'm sure if I had've seen these performances, they would also be on my list.
Even though I am still coming down from the 2015 ESSENCE Festival high, I cannot wait to hear about next year's line-up, so I can begin making my travel plans. It just keeps getting better and better!