This is a sponsored post in partnership with The Network Niche Influencer Agency and HoneyBaked Ham.
If you are a working mom or dad during this time of year, then you may be feeling a little stressed. With the hustle and bustle of regular life and the added activities of the holiday season, it can be a lot. Your list is probably running over with to-do's, so I'd like to help make it easier for you.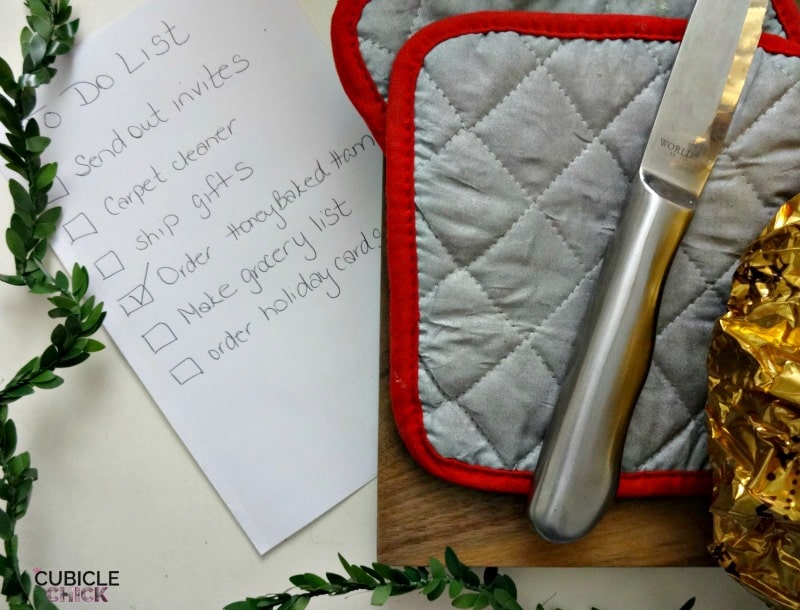 A few years ago, I stopped stressing over every little detail of the holidays and began outsourcing.
Getting help from others makes it easier, and helps you enjoy the true meaning of this time of year.
For over 55 years, HoneyBaked Ham has been helping families share their most precious moments. Creating your own HoneyBaked Ham holiday traditions is as simple as visiting your local store and picking up the essentials for your feast. With their award winning ham, sides, and other delectables, they can do the heavy lifting.
And what's more is that you can win a $50 HoneyBaked Ham gift card right here. I will get to how you can enter in just a minute. I'd like to first share how you can create special holiday traditions this year.
Add a component of gift giving in which a gift has to be made, not bought.
Take a memorable photo for your holiday Christmas cards.
Have a holiday pot luck where everyone makes their favorite dish.
Go caroling with your family around the neighborhood.
Create your own family rendition of 'Twas the Night Before Christmas using your family members in the story.
Make this season a HoneyBaked Ham holiday by ordering your entire meal from HoneyBaked Ham (so you have more time on what really matters).
What's super special about holiday traditions is that you can make them fun and interactive for the whole family.
Now to the part where I tell you how to win a HoneyBaked Ham gift card. To enter, leave a comment below of one of your favorite holiday traditions.
Use a valid email address (or Facebook account) to leave your comment. One (1) U.S. winner will be selected at random, void where prohibited. This giveaway ends Tuesday, December 13th at 7pm CST, and a winner will be selected within 24 hours. If the winner does not reply within 48 hours, another winner will be chosen.
Good luck, and here's to creating your own HoneyBakedHam holiday traditions.