I'm sharing my experiences visiting Memphis in the 2017 Mitsubishi Outlander. This vehicle was loaned to me to use for review purposes.
My relationship with the city of Memphis is complicated.
My mom, dad, and I moved to Memphis from Phoenix in 1988 when my dad got a job working for FedEx whose corporate hub was in the city. For me, the experience was pretty horrible. I was in eighth grade and I didn't fit in at all. Moving from the southwest to the Mid-South was a huge culture shock. There aren't many fond memories of my time in Memphis. When we moved away a few years later, I was happy to say Bon Voyage to that city.
Fast forward to present day, and I've visited Memphis many times since I lived there. It's become a place that I have reconciled as being a part of my history, my growth, and my burgeoning teen-hood. Bringing my daughter there to share in the Memphis history, music, and soul that this city is known for had been on my mind for awhile. We finally made a date to take a weekend family jaunt to Bluff City, and we did so in style in the freeway hugging 2017 Mitsubishi Outlander (I will be sharing my favorite features of this automobile in a post coming soon).
History
When I lived here at 13 and 14 years of age, I don't remember getting around much to see the city. In fact, most of the notable places Memphis is known for, I hadn't seen until this trip. For me, it was important to show my daughter her history, good, bad, or tragic. Memphis has such a rich past due to the impact it had during the Civil Rights Movement and the death of Martin Luther King, Jr.—the Lorraine Motel and the National Civil Rights Museum was one of the first places we visited.
Seeing the very place where Dr. King lost his life was a moving and somber experience. The tour gives you so much insight into the movement, you are pretty much filled with every emotion.
I learned a lot about the Lorraine Motel, a well-known celebrity lodging haunt that was Black owned back in the fifties and sixties. Many singers including Isaac Hayes stayed at the motel and wrote their songs there. It had a pool and a drive-up window to help guests check-in quickly.
Dr. King was staying at the Lorraine Motel that fateful evening when he was assassinated.
I think that all parents should take their kids to visit the National Civil Rights Museum as a rite of passage.
Music
You can't talk about Memphis without talking about music. Memphis history is steeped in tradition of bringing us some of the world's most talented musicians and artists. Elvis, Jerry Lee Lewis, B.B. King,  and the Staple Singers—the list goes on and on and on. It is also known as the disputed birthplace of Rock and Roll.
To pay homage to the musical greats, we visited Stax Museum, a Memphis label icon.
Located at 926 East McLamore Avenue and founded in 1957, Stax is the groundbreaking label of hitmakers like Otis Redding, Sam and Dave, and Wilson Pickett to name a few. Elvis Presley even recorded three albums at Stax for RCA Records.
As a Memphis imprint, alongside Sun Records, it help put Memphis on the map sonically. American Soul Music was indelibly molded by the label.
Stax Music is located in Soulsville, aptly named because it is the area of Memphis where music comes alive.
Culture
When it comes to food, Memphis is a gem of a place in which to get good eats. BBQ, soul food, friend chicken is such is par for the course. When I asked my friends on Facebook what eateries we should visit, one kept coming up—The Arcade Restaurant.
Known as the oldest restaurant in Memphis (it opened in 1919), it has been featured in many motion pictures including The Firm, Great Balls of Fire, and 21 Grams.
Located downtown, it is in an area that is being revitalized. It is also within a block or two of the National Civil Rights Museum. Many businesses over the years have come and gone, but The Arcade Restaurant is still thriving.
In this quaint diner, you can get awesome breakfast dishes and sandwiches. When there, you can feel the richness of the inhabitants over the years. It's a must visit treat.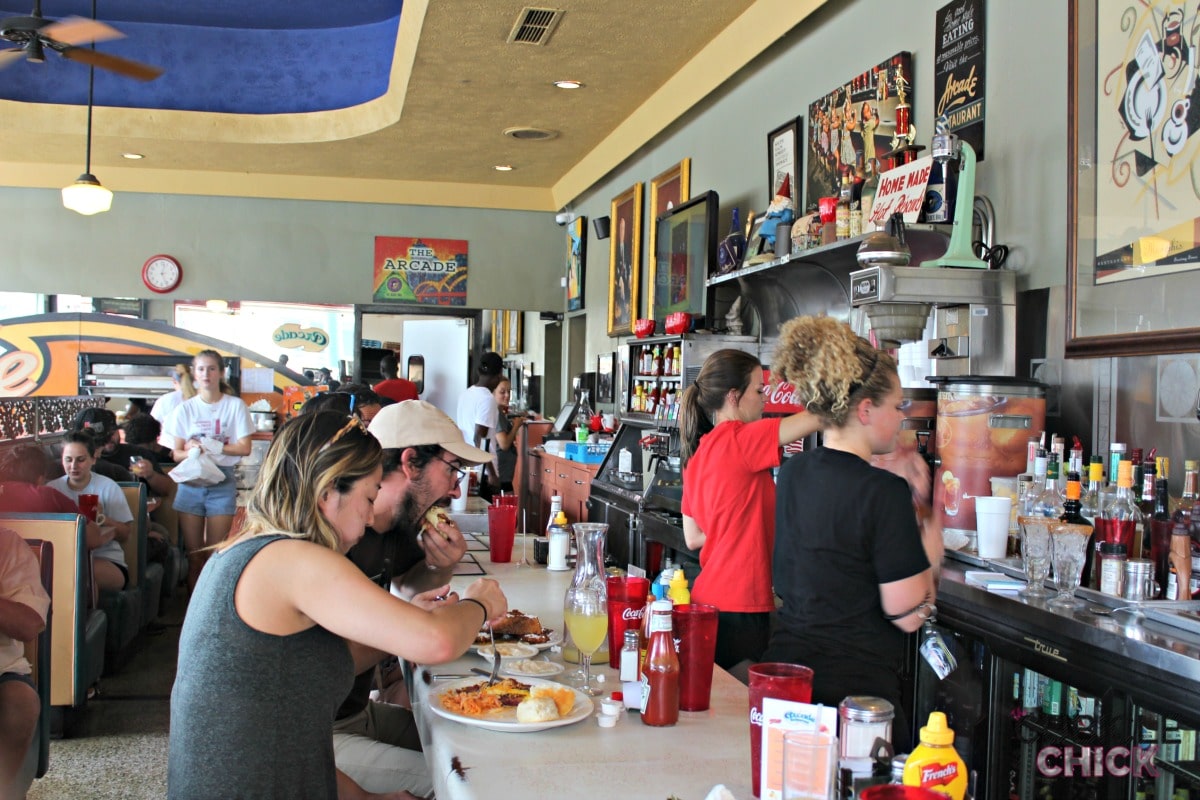 Memphis is often a forgotten city of yesterday, as some of its tragic happenings seem to taint the city. With a little tender love and care, it's a place that I now look on with fondness and melancholy. I enjoyed my latest experience there and look forward to visiting again soon.
There's so much to see and do including Graceland, The Peabody Hotel, Beale Street, The Pyramid, and so much more. In Memphis, I feel my roots calling me. And when I visit, I get to answer them, if only for a moment.
Learn more about Memphis by visiting their official website.