During these days and times, we are all searching for food delivery services that still allow us to prepare meals for our families. Restaurant delivery is great once a week or so, but can be expensive and not very healthy. I wanted to share with you alternatives that give you the ability to shop like you would at the market, but bring the goodness to your doorstep.
Whether you are on lockdown due to your city or state's requirements, or self-containing or in home quarantine mode, I am sharing grocery store home delivery options besides Instacart or Shipt, or Amazon Fresh.
Schwan's
I've been ordering Schwan's for two years now, even before our recent Covid-19 pandemic. When I started my weight loss regimen in 2018, I began ordering from their LiveSmart line of foods, which are tasty, but better for you.
Schwan's pretty much delivers everything you need including meals, sides, desserts, frozen fruits and veggies, breads, etc. What's more, if you order $50 or more worth of food, you get free delivery.
I recently received my latest Schwan's order and I am very thankful for them! To order, simply go to Schwans.com, add your food options to your cart, and pay online. The only drawback is, unlike Instacart, Shipt, or those other-like delivery services, you have to wait for a driver to be in your area. My driver always delivers every other Monday, so when I place my order, I know that it will be delivered on his next route through my neighborhood.
Oberweis Dairy
Oberweis is a throwback to when people used to get their milk and butter delivered fresh on their doorstep (think Leave it to Beaver). You can order most dairy products like milk, eggs, cheese, butter, ice cream, yogurt, and cream. I will tell you that they have some of the best milk you've ever tasted and is worth every penny.
Like Schwans, Oberweis delivers on a route system, so you may not get your order right away. Once you are on the rotation, however, you can plan accordingly and enjoy old fashioned fresh goodness without leaving your house.
Check their website to see if they have delivery in your area.
Omaha Steaks
Omaha Steaks is another grocery home delivery option that I began using when I started losing weight. Mostly known for their premium meats, you can pretty much getting any meat or cut you want including filet mignon, New York Strip, chicken breasts, sausages, and pork chops. They also sell ready-to-eat meals that take less than 30 minutes to prepare, and is delivered on your doorstep in a cooler with dry ice.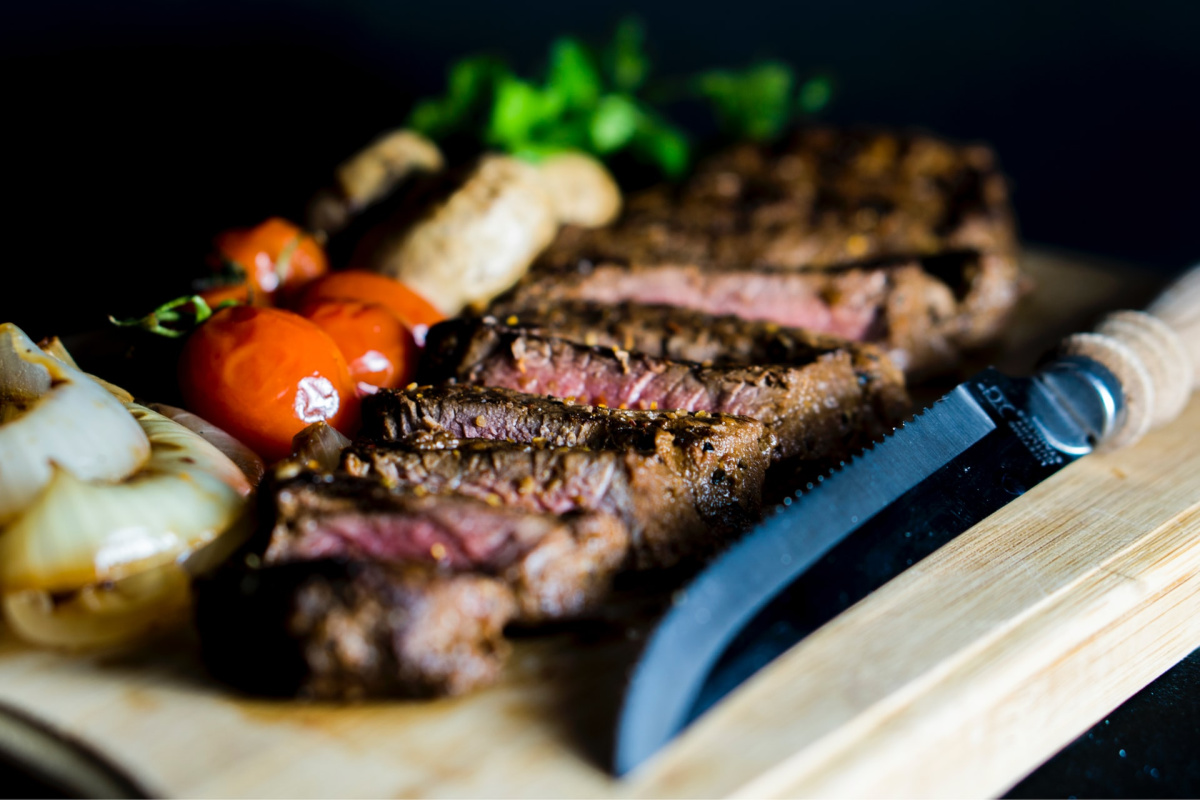 Their meats and sides are amazing (I love their twice baked potatoes–I am salivating at the thought of one), and they even sell spices and dry rubs, too.
Perdue
You know Perdue Farms as a trusted name for poultry, but did you know that they have direct-to-consumer bundle boxes? You can order chicken breasts, drumsticks, filets, and more! I received my first Perdue Organic Chicken Box back in January and we are still enjoying it!
Simply place your order, and it will be shipped right to your front door. You can even order beef and pork, too! Order your Perdue Bundle Box.
Peapod
Before Instacart or Shipt, there was Peapod. They've been delivering groceries and household essentials for over a decade, and they are super clutch right now. Unfortunately they don't deliver in my city, but I have used them a few times when I was in Chicago, so I can personally vouch for them. Peapod is now available in the East Coast only.
Visit Peapod and get your grocery on.
Imperfect Foods
Imperfect Foods delivers fresh, hand-picked food to your home easily and effectively. All you have to do is select your plan (based on family size and needs), and that's it! You are able to update your shopping list weekly to add or take off things you may no longer want or need.
This is a membership based service, but you are able to skip a week if you need to, and you can cancel at any time.
Daily Harvest
If you are searching for healthy options, Daily Harvest would be a great place to start. Get fresh thoughtfully sourced fruits and veggie meals, bites, and smoothies delivered on a weekly basis. I just placed our first order and my daughter is excited to try them, and so am I! I will update this post with pictures and a more robust review once we've received our first order.
If you are looking to try Daily Harvest, click this link for a promo code for $20 off your first order. It's also a membership based food source.
World Port Seafood
Omaha Steaks has a seafood division, which delivers quality seafood. You can order everything from shrimp, to fish, to lobster, and they also offer combo meals that make wonderful dinner options. Visit World Port Seafood to get a full line of their current offerings.
So there you have it! If you are looking for grocery home delivery options besides Instacart and Shipt, these alternatives should work for you!