Here's something you may or may not know about me: when it comes to entertainment, classic Hollywood, celebrity lifestyle, and pop culture history, I am a wealth of knowledge. Since I was 12 years old (and I first read Dreamgirls: My Life as a Supreme by Mary Wilson), I've been fascinated in the lives of music and film stars. I soak up pretty much everything about my faves like Prince, Michael Jackson, Diahann Carroll, Marvin Gaye, and others, and I can spend hours on YouTube watching videos about stage and screen stars.
I recently took a trip to Los Angeles to see my son who is recovering from open heart surgery (more on that in a future blog post), and I wanted to take a closer look at some iconic Los Angeles homes that I have seen online and in books. Here's another fact: many of the homes that you see in some of your favorite television shows or movies are real homes that are in actual neighborhoods. After some research (aka Google is your friend), I found five iconic Los Angeles homes that you probably are familiar with.
My man was game to visiting these treasures, and we trekked around Los Angeles (between lunches and brunches and movie dates) and got a close look at these houses. Some were lived in by celebrities, others were seen on the small screen.
Here's a look at the Five Iconic Los Angeles Homes we saw while visiting, Hollywood Edition:
Marvin Gaye Home
Located at 2101 South Gramercy Place in the West Adams District (Mid City) of Los Angeles, this once stately Tudor style home was the scene of Marvin Gaye's last breath. On April 1, 1984 just one day before his 45th birthday, his father Marvin Gay, Sr. (no E-the E was added to Marvin Gaye Jr.'s name because he thought it sounded more heterosexual) shot him to death after an argument. It was said that Marvin did not like the way that his father was talking to his mother about some insurance papers, and he got physical with his father. Afterwards, Marvin Gay, Sr. retreated to his bedroom and pulled out his pistol and shot Marvin, who died in his bedroom before the ambulance could get to him.
It was a terrible tragedy, and something that rocks me to this day. I was just nine when this happened, and I remember how distraught my mother was after she heard on the radio that Marvin had died. They both shared the same birthday, and my mom was sad for days afterwards. As I grew older, I began researching Marvin and his life, and the Gramercy Place home (shown in news footage) became a memory I never forgot. Seeing it in person was surreal, and yet, it wasn't eerie at all. I personally believe that Marvin wanted to end his life (he tried killing himself before), but couldn't go through with it. It is my feeling that Marvin attacked his dad knowing that he would go for his weapon, a gun that he bought him for protection several years prior.
The Gramercy Place home was in the Gay family for many years, and was last sold in 1998 to a private owner for $410,000. According to online sources is worth around 2.2 million currently. Visually from the outside, the house looks like it could use a little work. It would be great to see it return to its former glory.
Thriller House
It's close to midnight–something evil's lurking in the dark. Yeah, you know you want to sing with me.
The next house we visited was a home that was showcased in the mini-movie breakthrough video Thriller from Michael Jackson's record breaking album. You can see the home in the video as it's where Ola Ray goes to escape the evil that's lurking in the dark. The home is located in Echo Park at 1345 Carroll Avenue just two houses down from the Charmed house.
Online records show that it has been deemed a historical landmark in Los Angeles and despite its dilapidated appearance, someone does indeed live there. During the Halloween season, it is a popular destination for those wanting to reenact scenes from the video.
The house looks just as scary as it did in the video, and I am not sure that's a good thing.
Oh, and here's another little gem: Thriller was almost called Starlight. Cause this is Starlight…(could you imagine singing that? Doesn't have the same effect).
Brady Bunch House
As tempted as I am to begin this part of my blog post with some more lyrics, I will spare you the geekiness. Next on our La La Land tour of homes was the Brandy Bunch house, which is known as the residence the blended family of the Bradys lived in from 1969 to 1974. Located at 11222 Dilling Street in Studio City, it still attracts a lot of tourists, and there's a security guard there daily to make sure that visitors don't get too out of hand when taking photos.
The home had been changed over the years, but was recently restored to its former glory by HGTV with the help of the Property Brothers and the Brady kids.
If you are ever in Los Angeles, this is a must-see treasure.
Michael Jackson's Last Residence
We all know the story, so I won't rehash the details. On June 25, 2009 in his rented Holmby Hills mansion where he was staying for the rehearsals for This Is It, Michael Jackson died was killed. Located at 100 North Carolwood Drive, you cannot see the home from the street, as it is gated and covered by greenery.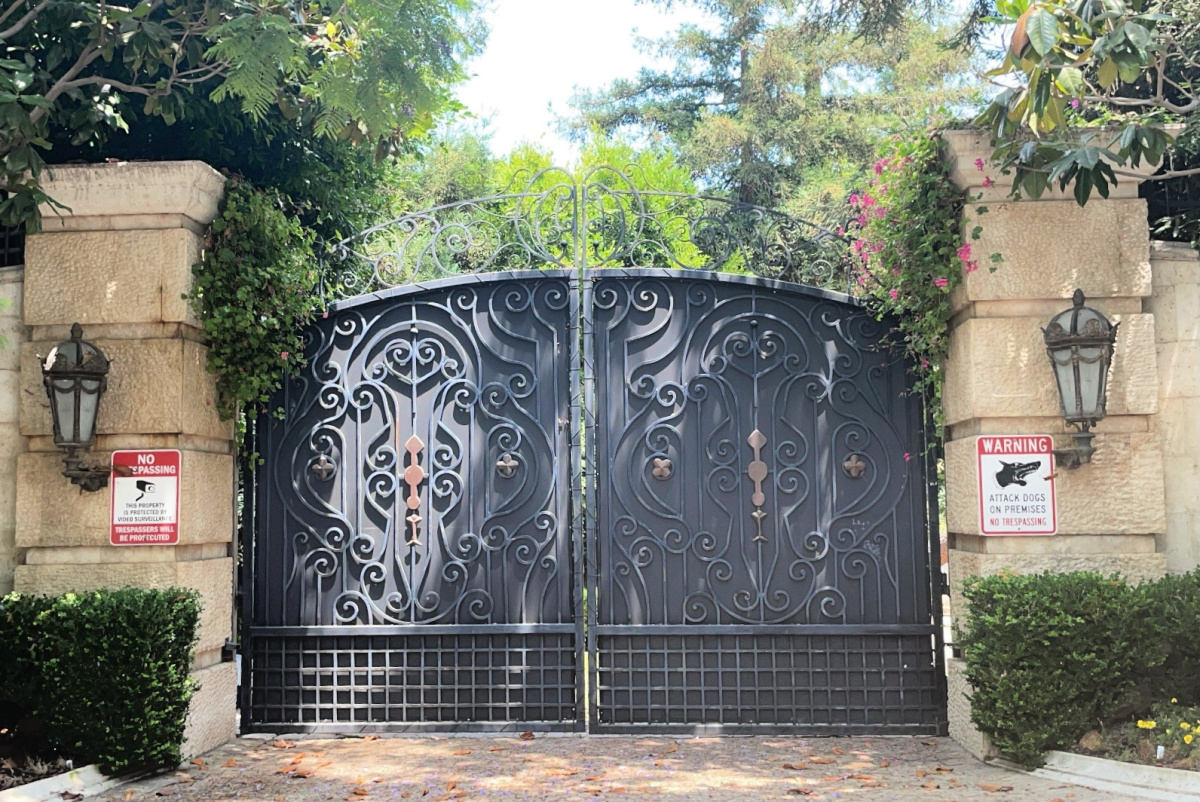 Records indicate that the French styled chateau, formerly owned by fashion clothier Ed Hardy, was purchased in 2012 $18.1 million–the original asking price in 2008 before it was rented to Michael was $38 million.
Michael lived there several months before his death, after moving from Las Vegas to prepare for his This Is It series of shows at the O2 Arena in London.
I managed to get photos and video of both the front of the house at the side of the home, which my boyfriend pointed out as we were leaving. This would've been the entrance that Michael and his posse would've left through when heading to various appointments, rehearsals, etc.
You can see more of the house in this drone footage on YouTube.
Gimme a Break House
This house may be the least known on my list, but it isn't any less special. If you are an 80's kid and grew up on primetime sitcoms, then it might look familiar to you. The exterior of the home was featured in the opening credits of Gimme a Break!, starring Nell Carter and a young Joey Lawrence which aired from 1981 to 1987.
Supposedly Nell and the Kanisky family in which she served as a surrogate mother, cook, seamstress, and life coach lived in this colonial in fictional Glenlawn, California (northern Cali), but the home was actually located at 515 South Norton Avenue in Hancock Park near Hollywood.
It's a different color now, but not much has changed with this house. After a little digging, I found out that it was also featured in episode 3 of This Is Us.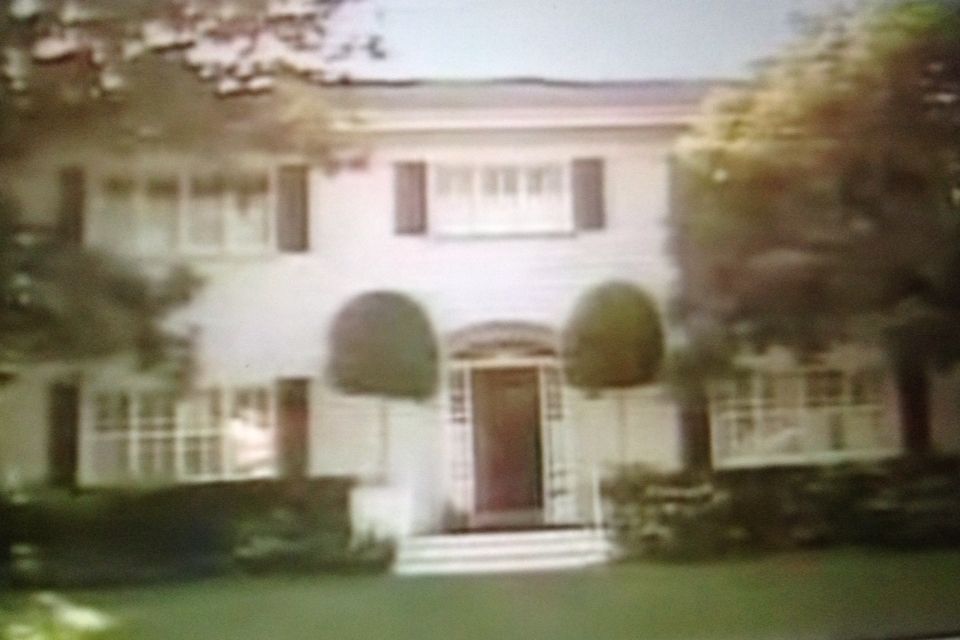 During our iconic Los Angeles homes tour, we also saw Nat King Cole's extraordinary home in Hancock Park, The Fresh Prince of Bel-Air house (which was under construction), and the Golden Girls house located in Brentwood. We also took a drive down Rockingham to The Juice's old address, but didn't want any photographic evidence of that.
We plan on visiting Los Angeles again real soon and plan on seeing some more points of interest. Do you have any recommendations for us to visit?
Pin for later!