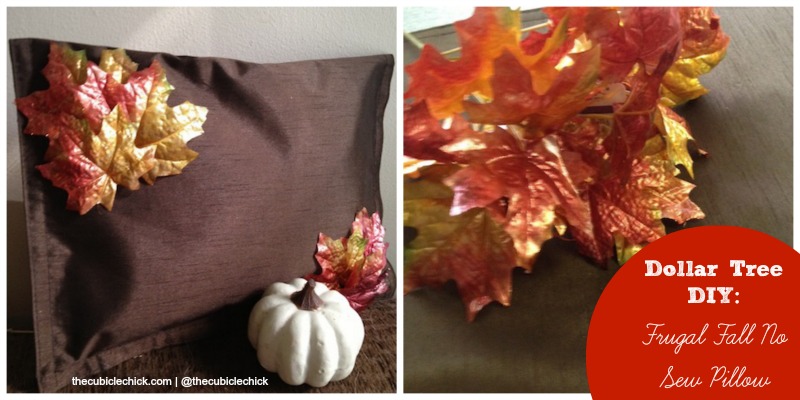 Accent pillows can brighten up any room or space, and they are especially fun to change out from season to season. But who can afford to do that? Well now you can, with this easy Frugal Fall No Sew Pillow tutorial. Don't worry, you won't need to haul out a sewing machine or even a needle and thread for this project, all you need a few basic supplies found at your local Dollar Tree store. In no time, you can have a fun and frugal fall pillow ready to decorate your space. Take a peek!
Supplies Needed:
Fabric place mat
Fall leaves
Ribbon
Scrap fabric or cotton batting
Glue gun, glue
As mentioned, we were able to buy all of these supplies at our local Dollar Tree store. We already had batting, a glue gun and glue, so our total out of pocket was just $3 to create this piece. For that price, you can afford to make several!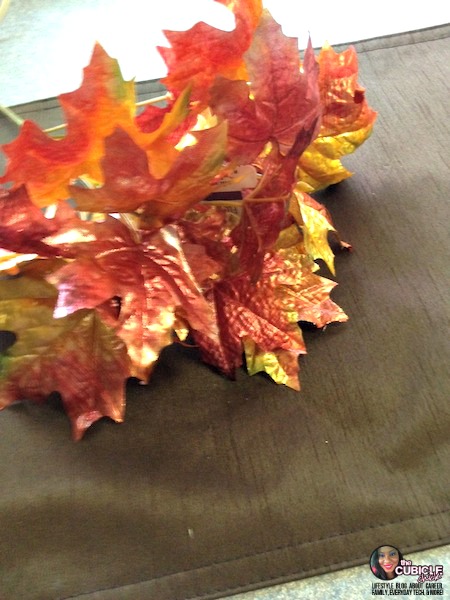 Directions:
1. Begin by folding your place mat in half. You will already see the pillow taking shape.
2. Apply a thick line of glue along the one side and bottom hem of the placemat.
3. Press the fabric down firmly on the glue so it adheres well.
4. Now, you will notice that one edge of the pillowcase is open. This is where you will stuff you batting in. Place as much batting inside as you wish. Make it nice and full, and adjust how much you add depending on how firm you want it.
5. Add another thick strand of glue to the open end and press the fabric together to secure it closed.
6. You can now squeeze the fabric to move the batting around into place.
7. Now, embellish the pillow as you wish. For ours, we glued silk leaves and some ribbon on to create a fun fall look. You can arrange your leaves or fall flowers any way you choose. Get creative!
Now all you need to do is decide where you want to display your pillow. A couch, loveseat, bed, or even bench or office chair is the perfect place. Make one, make a pair, the choice is yours. As you will notice these are so inexpensive and easy to make, you won't want to stop at just one.
So gather your supplies and get crafting!
Written By Katie Femia, DIY & Craft Contributor