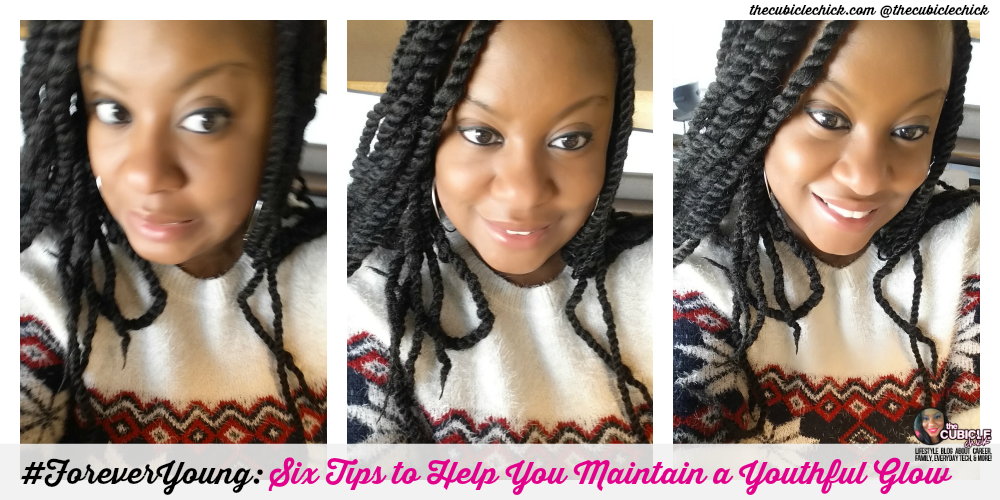 Disclosure: Compensation was provided by P&G via Mode Media. The opinions expressed herein are those of the author and are not indicative of the opinions or positions of P&G.
Sometime around the beginning of December, it hit me—I am almost forty, and next year, I will turn the Big 4-0. While this is usually an epic turning point in the lives of millions of women, I am embracing my age. With it comes wisdom and strength. There is a sense of pride knowing that while I may be entering middle age, my life is better than ever. Of course, I want to continue to look as good as I feel, so I've been on a hunt to find products and tips that can help me maintain a youthful look without breaking the bank. And in doing so, I've been asked by Olay to share with you some of my beauty routine tips that can help you age gracefully.
Since being an adult, I've never really looked my age—I've been blessed with some pretty good genes. But that doesn't mean that there aren't things that I can do to help keep my youthful appearance. Good genes, along with several other tips have given me the ability to defy looking almost forty.
Here are my six tips to help you maintain a youthful glow:
Rest and Sleep
Sleep is uber important. When you are well rested and relaxed, your body will thank you. All of my friends make fun of me because I like to sleep in on a regular basis and take naps as well. This helps me keep a healthy glow, and wards off bags and other signs of lack of sleep which can make you appear older. Make sure to get at least seven (7) hours of sleep at night. Your body and your skin will thank you.
Skincare Routine
A great skincare routine is also key when maintaining a youthful appearance. I get facials on the regular and between appointments, I use a gentle facial cleanser and toner. I also use a mask two to three times a week. A great moisturizer can help your skin's texture and tone as well. For the last week or so, I've been using Olay Regenerist Micro-Sculpting Cream and it's been love at first use. It has a wonderful smell (I am one of those people who likes to use products that smell awesome) and it goes on light. Olay Regenerist Micro-Sculpting Cream penetrates rapidly to deliver anti-aging ingredients 10 layers deep into skin's surface and can help improve your skin but also minimize lines and wrinkles. It's the number one selling anti-aging moisturizer on the market and I can see why—I am now a fan!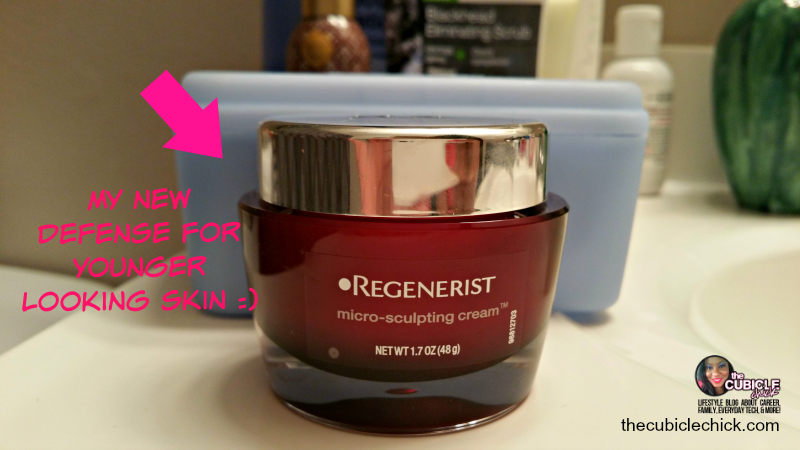 Drink Water
This is a tip I struggle with, but it's a known fact that drinking at least 8 glasses of water daily can help keep you healthier from the inside out, therefore improving your skin. Water can help shed impurities in the body and works to rid your body of waste and toxins. Drinking water can also help you not retain water, which can make you look bloated and puffy in your face, giving you a younger appearance.
Limit Direct Sunlight
Limiting direct sunlight and using a sunscreen daily can help your skin immensely. I try to also use a hat in the summer to block out the sun's rays, which can cause skin damage.
Diet
Eating foods that are healthy and good for your body also bodes well for your skin. I've always been a huge fan of veggies, and I eat a lot of them. Also fruits, nuts, and other foods can help your body be healthy on the inside and the outside, which can affect your skin's appearance.
Exercise
Getting some form of exercise can help you achieve a healthy and youthful glow as well. I always notice in photos when I haven't been on top of my exercise routine that it always starts to show in my face. You don't have to do anything huge to get a good workout in. I, for one, do a lot of walking around my neighborhood and community. That helps burns calories and gets my heart rate up, increasing blood flow and oxygen which can help your body. Yoga is also great for eliminating stress, which also affects the skin. Find some type of exercise to do on a regular basis if you haven't already—your skin will love you for it.
Aging is something we all will have to deal with at one time or another. I plan to go forth, shining as a woman who is embracing her age, and all that comes with it. The Olay Regenerist line of products is on the market to assist us with finding the beauty in us all.
Brand Statement:
Olay is a worldwide leader in skin care and has been trusted by women for over 60 years, maintaining its founding philosophy: to maintain a deep understanding of women's changing needs and to combine products that fit their needs with the latest advances in skin care technology. Regenerist was created along those lines to address women's anti-aging needs, and millions of women have tried it and loved it, making Regenerist the #1 anti-aging moisturizer.*
*Based on Nielsen data week ending 2/1/14.
Disclosure:
Compensation was provided by P&G via Mode Media. The opinions expressed herein are those of the author and are not indicative of the opinions or positions of P&G.