Written By: VirtuousGlam Carlalee, Professional Hair Stylist & TheCubicleChick.com Health & Beauty Contributor
The following is part three in TheCubicleChick.com's Fabulous Summer Hair, Skin, & Beauty Tips From a Professional Series. In each post, pro hair stylist, cosmetologist, (and The Cubicle Chick's personal hair dresser) VirtuousGlam Carlalee will give you tips about how to keep your hair, and skin healthy and beautiful during the hot and harsh summer months.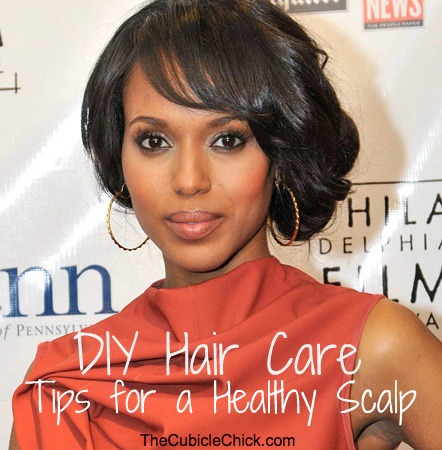 Fab ladies, we've hit mid-summer—and in most cases, the local pool becomes our new best friend (and in this weather, who can blame us?). But with high levels of chlorine, frequent visits can be damaging to our hair and scalp, especially if you struggle with dandruff or dry scalp.  So, I've got the perfect "do it yourself" (DIY) remedy that can be done as quickly as a morning shower! But let us first get an understanding of what dandruff is and where it comes from.
Dandruff and dandruff flakes are nothing more than dead skin cells, that naturally fall from the scalp. NO WORRIES! However, there are several different factors that can contribute to their escalation, such as these:
heredity
hormonal changes
excessive alcohol consumption
high sugar, high salt, and spicy foods
lack of fatty acids and vitamin B
weather changes
stress
We know that natural causes such as heredity, hormonal and weather changes are out of our control, but anything that we can do so that our bodies and hair are in their best health should definitely be our top priority!  What goes into our bodies definitely affects the natural reaction of what goes on outside of our bodies.
In addition, a healthy scalp is a true necessity for healthy hair, so we need to treat our scalp to an "ooh-aah" moment. Shampoos that are geared towards dry scalp can be great but quite often, people with dry scalp find themselves washing their hair more often in pursuit of a clean scalp, which can dry the hair and strip it of its natural oils.  So I'm going to help you rejuvenate your scalp with 3 simple ingredients you can find right in your kitchen!
We'll start with fresh lemon juice, extra virgin olive oil, and water. The acid in the lemon juice helps to clarify and lift flakes from the scalp, and the olive oil moisturizes and soothes the newly exposed skin—how cool is that 🙂
*Please note this treatment can be done every other week*
Step 1) Mix 2 tbps of fresh lemon juice, 2 tbps of olive oil and 2 tbps of water together in a cup
Step 2) Pour the mixture all over your freshly washed CLEAN hair and allow it to sit for 20 min with a plastic cap (no heat is needed)
Step 3) Rinse and shampoo an additional time with a moisturizing shampoo and follow with a moisturizing conditioner
There you have it—fresh, clean, rejuvenated, and flake free!
Stay tuned for your next summer beauty tip and until then lets make sure that our outer beauty matches our inner beauty!! XOXO