Fall is one of my favorite season of them all. I've shared many times why I tend to look forward to autumn every year, but this time when I opine, I will be sharing some Fall cocktail recipes that will have you ready for leaves turning colors, sweater weather, and curling up in front of the fire place with a good book and a drink or two.
I am all for a Homemade Happy Hour after a long day at work, and these Fall cocktail recipes are just what the doctor ordered to have you feeling all warm and fuzzy and whatnot.
Let's get into it!
Delight and savor and get into the season with these 12 Fall Cocktails that are autumn approved:
Fall-American Bourbon Apple Sour
Created by my fave, Dawson Eats America, this cocktail has Fall written all over it and is the perfect addition to a crisp autumn day or fitting nightcap. Get the complete recipe HERE.
Halloween Moscow Mule
My friend Sharon from Cupcakes & Cutlery created a fabulous mule that is made with Coconut Charcoal and Blackberries. It's frightfully delicious—get the recipe on her site.
Spiked Mulled Cider
This is the time of year when it's all-cider-everything, so a Spiked Mulled Cider is just what the season ordered. Gen over at Now & Gen has an fabulously awesome apple cider cocktail recipe that is spiked with bourbon and easy to make. Get the recipe HERE.
Frankenstein Green Halloween Cocktail
Brooklyn Active Mama's green and ghoulish cocktail had me at hello. It is oh-so creative and perfect for Halloween or even any other day in the Fall for that matter. Made with Kinky Apple Liquor and lemon sparkling water, it's an adult treat that is perfect for this time of year. Click for the recipe.
Chai Tea Latte Martini
Frugal Foodie Mama came up with a touchdown with this drink, which includes one of my favorite things–tea! Sweet and frothy and creamy and smooth, this is a cocktail that is perfect for Homemade Happy Hour or, whenever! Learn how to make it on her site, Frugal Foodie Mama!
Copycat Hard Rock Cafe Rush On The Rocks Cocktail
Maple whiskey, apple juice, and sweet and sour mix are the foundation to this duplicate Hard Rock Cafe Rush On the Rocks Cocktail that is Fall themed and wonderfully delicious. Get the deets on how to make it on Greta's Day, then head out and get the ingredients. You'll want to make this one over and over again.
Fall Fresh Margarita with Apple Cider
Who can say no to margaritas? Known as a refreshing treat, it can be remade into an autumn treat with some apple cider and cinnamon sticks. Vera over at Lady And the Blog is sharing her tried and true cocktail recipe for Fall Fresh Margaritas, and it is perfect for parties.
Holiday Kahlúa Gingerbread Cookie Cocktails
Gingerbread is a Fall and Winter staple and can really shake up a martini. Kahlúa Gingerbread is available in limited quantities during the holiday season, but if you can get your hands on it, you have to recreate this drink. Get the recipe.
Praline Coffee Old Fashioned
This cocktail had me at praline. That sugary New Orleans treat is one of my favorites, and a drink version of it made into an Old Fashioned is an ingenious (and yummy) idea. Tatanisha over at A Worthey Read is sharing a recipe for this liquid goodness that should be a part of your Fall flavorings—for real.
Cinnamon Latte Shots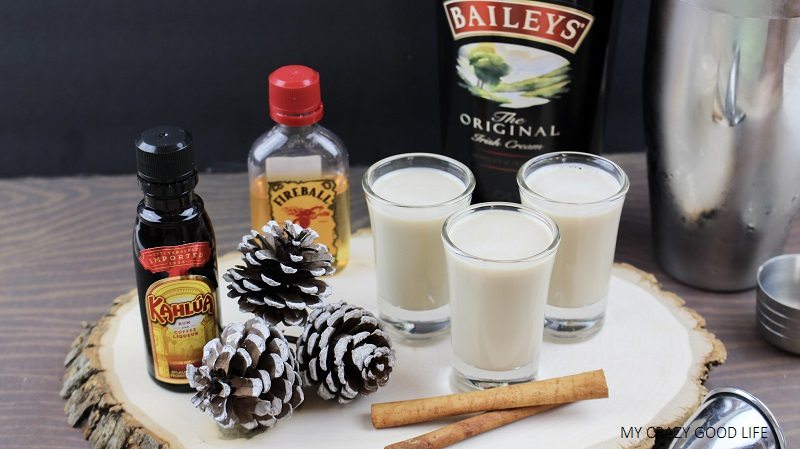 When I think of Fall, I think of cuddling up in front of the fireplace. This drink from Becca of My Crazy Good Life is autumn in drink form. It's got coffee in it for the bean lovers and Fireball Whiskey in it for the whiskey lovers, and cinnamon in it for the spice lovers and hits all of the right notes. Get all of the deets on making your own Cinnamon Latte Shots HERE.
Pumpkin Moscow Mule
Sharon from Cupcakes & Cutlery is the Moscow Mule Queen, as she knows how to create them for every occasion. I featured her Halloween Moscow Mule earlier in this post, and after seeing her Pumpkin Moscow Mule, I knew I also needed to add it to this roundup. With only three ingredients, it's easy to make and so, so good. Get the recipe on her site HERE.
Homemade Hot Toddy
When the weather starts getting cooler, a hot toddy is just the right thing to warm you up and cure what ails you. Made with tea, honey, and Hot Pepper Vodka, it has just the right amount of kick. Learn how to make it HERE.
I hope that you try some of these Fall Cocktail Recipes and let them warm you up while enjoying the season.
What are your favorite Fall cocktail recipes? Link me in the comments.